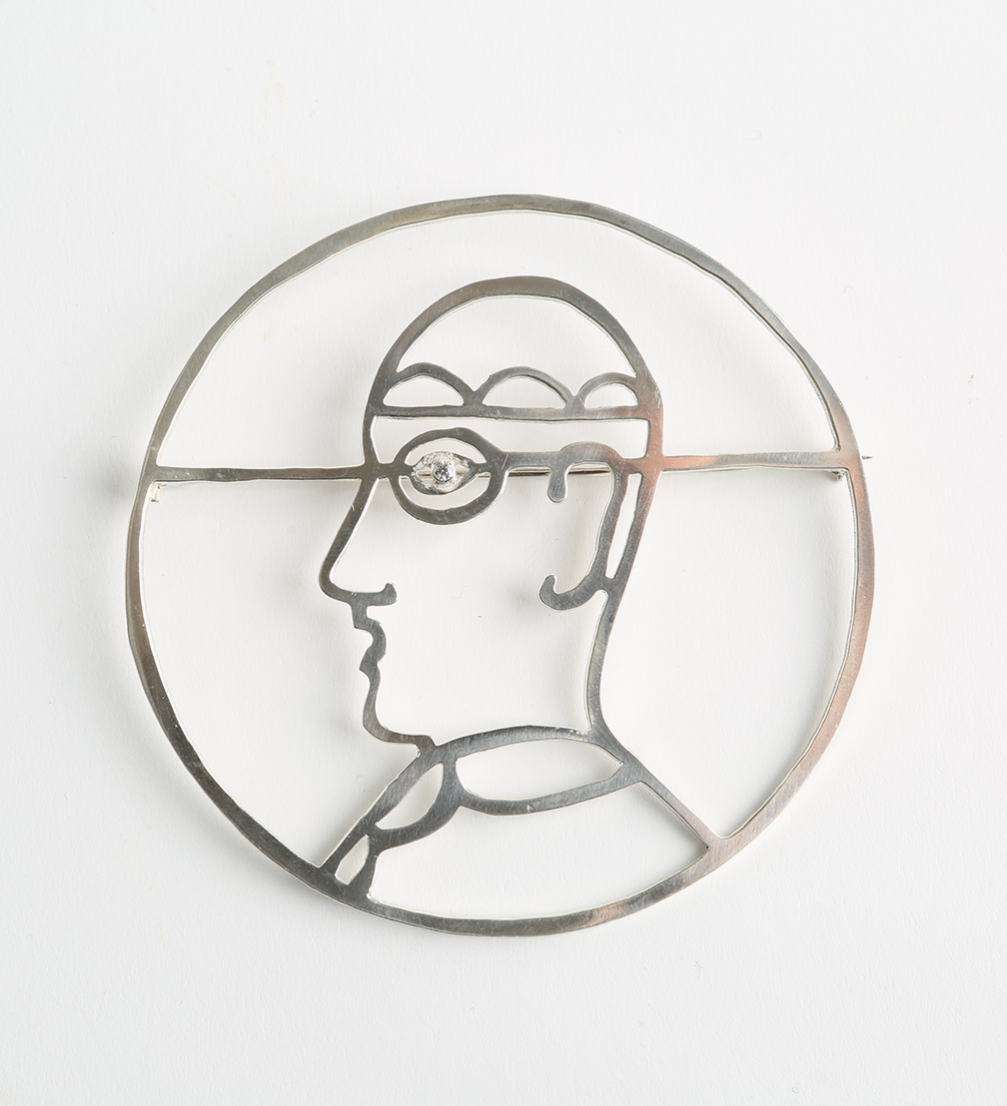 Brooch by Kaspars Zariņš. Publicity photo
From May 19 until June 19 the art gallery «Putti» will host an exhibition «Experimental sidestep» — for the first time a group of accomplished Latvian artists will present a piece of jewellery that they have made, but jewellery artists will display a painting.
The exhibition «Experimental sidestep» at the art gallery «Putti» is a challenge for the artists — to step out of the usual frameworks of expression and try out new creative forms and techniques. Latvian artists will express their thoughts and emotions through the language of jewellery. Jewellery differs from other genres of art in the aspect of being in direct physical contact with body and artists are invited to discover the connection. «Body can be anatomical, intimate, social, political or symbolic. Body's adornment will always be jewellery's primary function, but it can also be a sculpture, installation, performance,» comment organisers of the exhibition. Gold, silver, jewels, semi–precious stones, beach pebbles, resin, feathers, charcoal, leather, paintings, paper and many more other materials have been intuitively used by artists to state their conceptual or formal intentions.
Whereas Latvian contemporary jewellery designers will take paint brushes in their hands to create artworks unusual for them.
Scenography of the exhibition has been created by audio–visual media artist, stage designer Sintija Jēkabsone.
Participants of the exhibition are Anna Baklāne, Ieva Bondare, Kristians Brekte, Patrīcija Brekte, Diāna Dimza–Dimme, Anna Heinrihsone, Helēna Heinrihsone, Ieva Iltnere, Zane Iltnere, Ritums Ivanovs, Frančeska Kirke, Roberts Koļcovs, Sandra Krastiņa, Daiga Krūze, Paulis Liepa, Ieva Maurīte, Elizabete Melbārzde, Ģirts Muižnieks, Elita Patmalniece, Aivars Vilipsons, Andris Vītoliņš, Paula Zariņa–Zēmane, Vija Zariņa, Kaspars Zariņš, Dace Zilgalve, Otto Zitmanis, the fashion brand «Mareunrol's» as well as jewellery designers Valdis Brože, Andris Lauders, Guntis Lauders and Māris Šustiņš.
The exhibition «Experimental sidestep» will be open at the art gallery «Putti», Peitavas iela 5, Riga, from May 19 until June 19. More information on the exhibition is available on the homepage of «Putti».