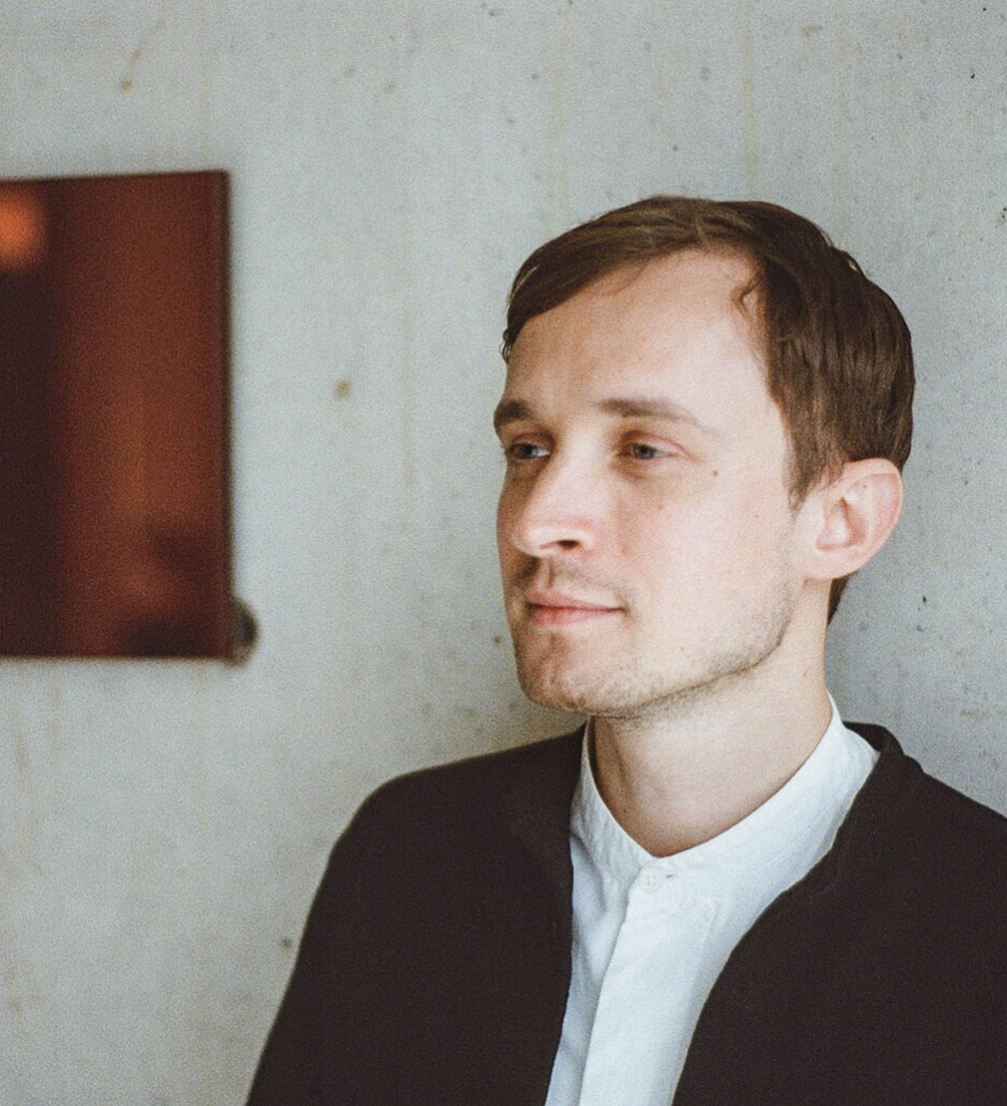 Germans Ermičs. Photo by Rihards Funts
Amsterdam–based Latvian designer Germans Ermičs has gained international recognition with his glass furniture, which reveals his nuanced sense of colour and fresh perspective. In the three years of managing his own design studio, Germans has successfully taken part in the most prominent design weeks of Europe and has worked on interior projects around the world. His work is followed by the world's leading design media, and «Wallpaper» magazine recently nominated Germans for the Next Generation Designer of the Year Award.
You are best known for designing glass furniture and other glass objects. Why did you choose this material specifically?
It all started out with my graduation work at the Design Academy Eindhoven and has also to do with me still collaborating with the same glass manufacturer, which I have a close working relationship with. Glass and colour are media through which I implement my ideas on optical illusions, on playing with spaces. Yet my ambition is not to be a glass designer — I think it's important not to be stamped and forever recognised only as a colour or a glass person. It is logical that people have seen a lot of it in my work. It's only been three years, I'm new to this profession. I am now working with natural stone, marble and onyx. This is age–long and incredibly beautiful material. I am trying to understand how I could gain new value from nature by simultaneously paying respect to it. So I experiment with various manufacturing processes. Hoping that in a year's time I can create new work with other materials.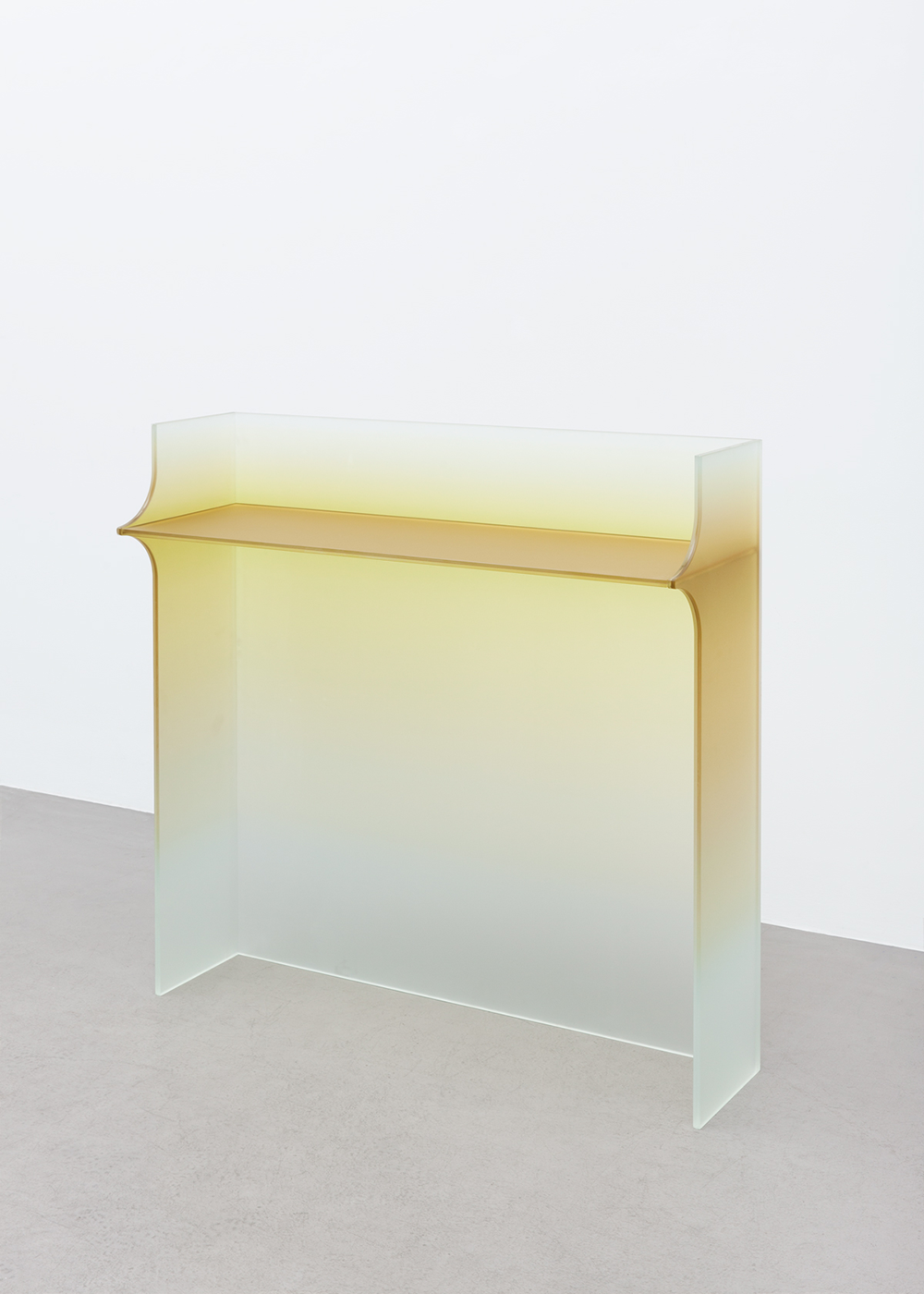 How important is it for the result of experiments to be aesthetically pleasing?
Beauty is not what I am focusing on. I am interested in the material in the first place. If it is beautiful, you don't even need to do much. I choose very simple forms and constructions just so I don't damage the material in any way. I am also trying to find the cleanest and most comprehensible way of using colour. It is not merely a décor that I pick out once the objects are finished. In the «Shaping Colour» series I wanted to give colour the central role. I am fascinated by colour transitions and I always try to look for something magical in the material. We all know what glass is like — it is cold, industrial and transparent. My intention is to work with materiality to change people's perceptions. Once I have achieved this, people are surprised and they ask me what kind of material this is. It is more of a conceptual approach: it certainly pleases me that the end result is tasteful and appealing, but it is not the first thing I think of.
Can you tell us a bit more about the techniques you use in your coloured glass works?
This is a special kind of printing technology. It all starts with colour that is printed on paper by applying a very thin layer of ink. Then through heat and pressure, it is transferred onto a special transparent film, which is then laminated thus merging between two layers of glass and becoming almost invisible. This is a lengthy and expensive process, which is why the series are limited and available only in selected spots.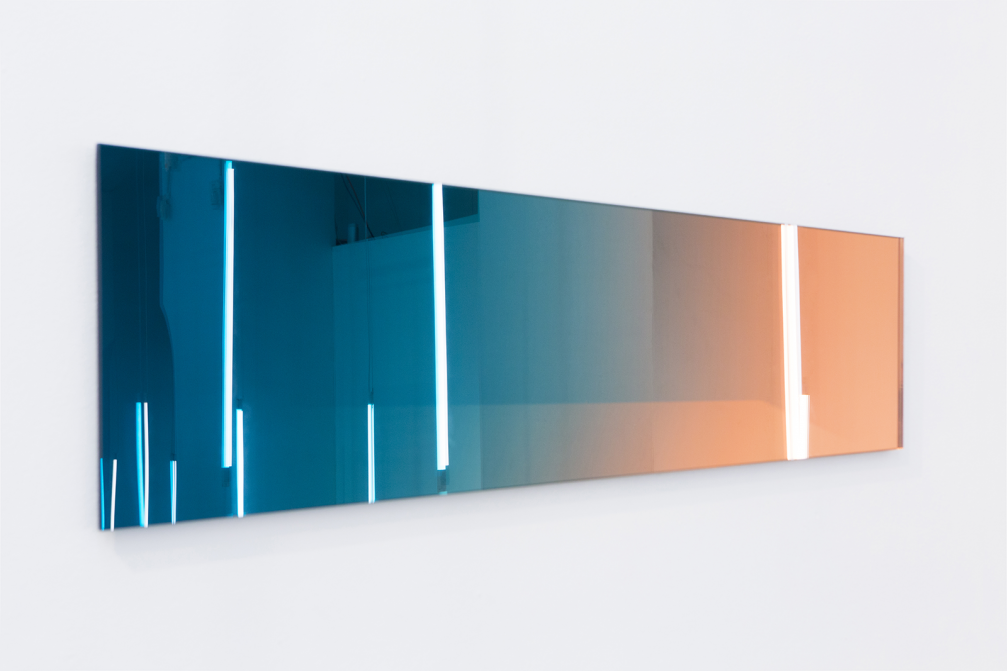 In Latvia, people know you as the co–creator and art director of «Veto Magazine». How did your interest in graphic design transferred into product design?
We created «Veto» with friends Jānis Volkinšteins and the editor Zane Volkinšteine with whom we shared a vision of a new kind of magazine. It was then and also during my studies that I was not yet sure about my career direction, so I pursued my interest in graphic design.
I have now found a balance, which is a compromise between graphic and product design. I would graphically experiment with form, colour and material. It's kind of a hybrid of disciplines that allows me to work in more than one field at a time.
Where did you study design?
At first, I studied industrial design at Riga Technical University, Faculty of Transport and Mechanical Engineering, but soon realised it wasn't for me because the programme was more about mechanics, technical stuff than about design as a creative process. So I passed my first exams and six months later I was off to Krabbesholm Højskole in Denmark, a school for future design, architecture and art students that would prepare them for admissions to university. I spent a whole year there, during which I met inspiring people and found more about the opportunities of design education.
After that, I lived in Copenhagen for a year doing an internship at this great design studio «Rasmus Koch Studio». Their primary focus was on working with cultural institutions. It was a valuable experience that changed my perception of graphic design.
When I moved to Eindhoven in 2007, I was one of the first students from Latvia. Before me, there was Māra Skujeniece, who later became my tutor.
At first, I thought I would do something graphical but soon realised the Academy had lots more to offer, so I chose the furniture and interior design department «Man and Living», which no longer exists due to a reorganisation of the departments.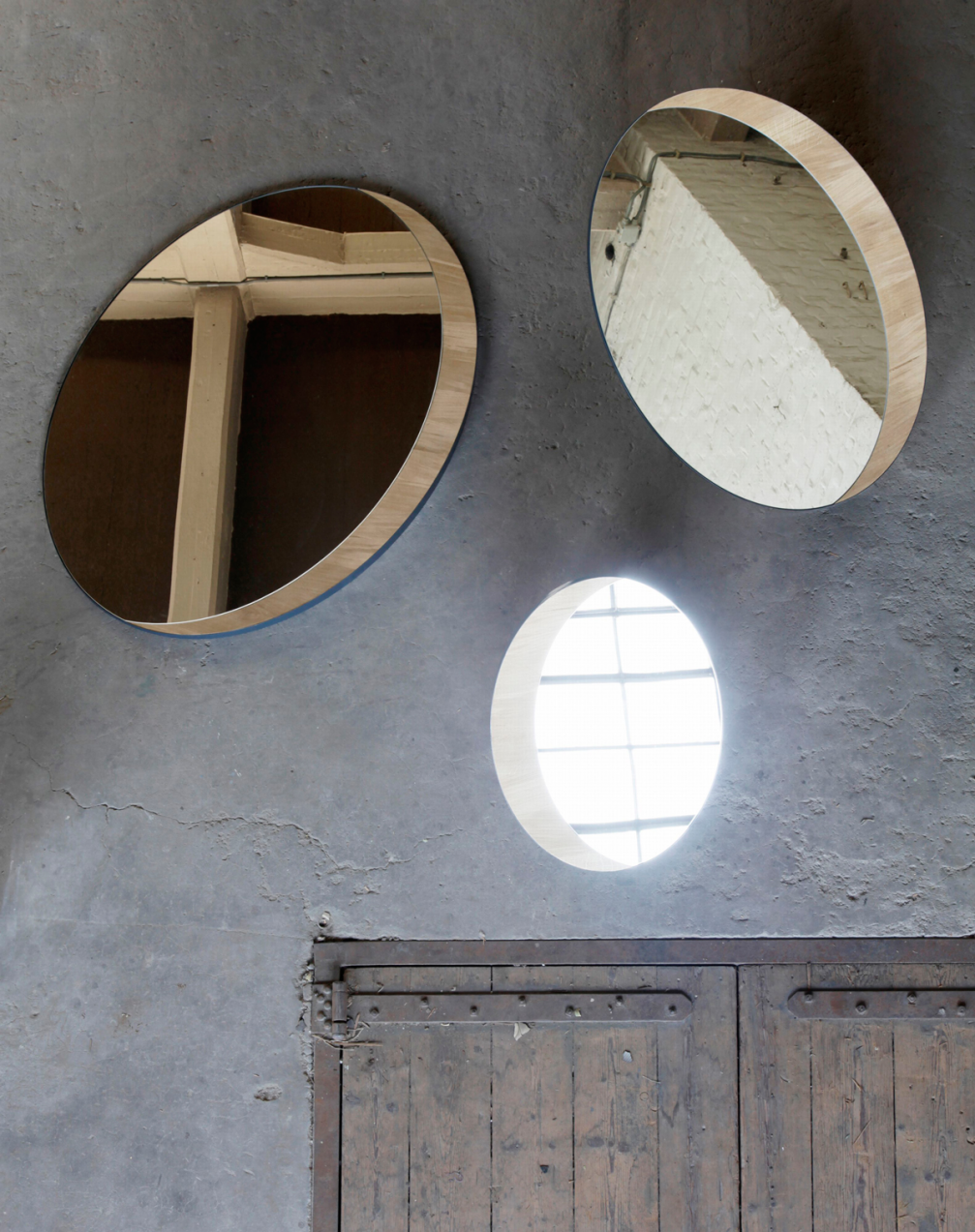 Please tell us more about what you gained from your studies and internship in Denmark. Such boarding schools are not very common in Latvia…
The concept of folk high schools is fairly developed in Denmark, and they are largely based in the interests of future students. After secondary school, people take a gap year to come to terms with their interests and it is also an opportunity to work on the portfolio, which is mandatory for further studies. These were high–level studies, except we were not graded — this was just to prepare ourselves.
The best thing was to get to know great people who would support you. I still follow what my friends from there are doing, sometimes our paths cross in the professional field, projects and exhibitions. Of course, we had many parties as well. It was a very fun year.
How did you come to create your own studio? And what is it like?
Before graduating from the Academy I had an internship in «Studio Robert Stadler» which was a useful experience and gave me a small insight on managing a studio. After that, it took me about three years to decide to work for myself. I spent a year in Latvia — it seemed I can finally come back, so I tried to come to terms what it is I could do here, how I could grow — either start my own studio or find a job. But I changed my mind, moved to Amsterdam and spent two years in interior design, which gave me a steady income flow and an experience in various types of clients and projects in Europe, USA, China. The scale is completely different from that I could afford in the beginning of my own studio when you have no money, no clients and nobody knows who you are.
In Autumn 2014, I started my own studio («Studio Germans Ermičs» — V.V.), which is located in the creative space «Krux Amsterdam» in the industrial harbour area of Amsterdam East. We are a small but diverse community that consists of artists, designers, craftsmen. We have various workstations, tools and, most importantly, an atmosphere that gives an incentive to work. It was important for me to be in an environment where I can talk to people. We share not only our experiences but also the tools — everyone has brought something in and we all get to use these items. Sometimes we have dinner or bigger events together, our place is quite well–known in the city. We will however soon be moving, for in Amsterdam, just like in many other big cities is exposed to gentrification.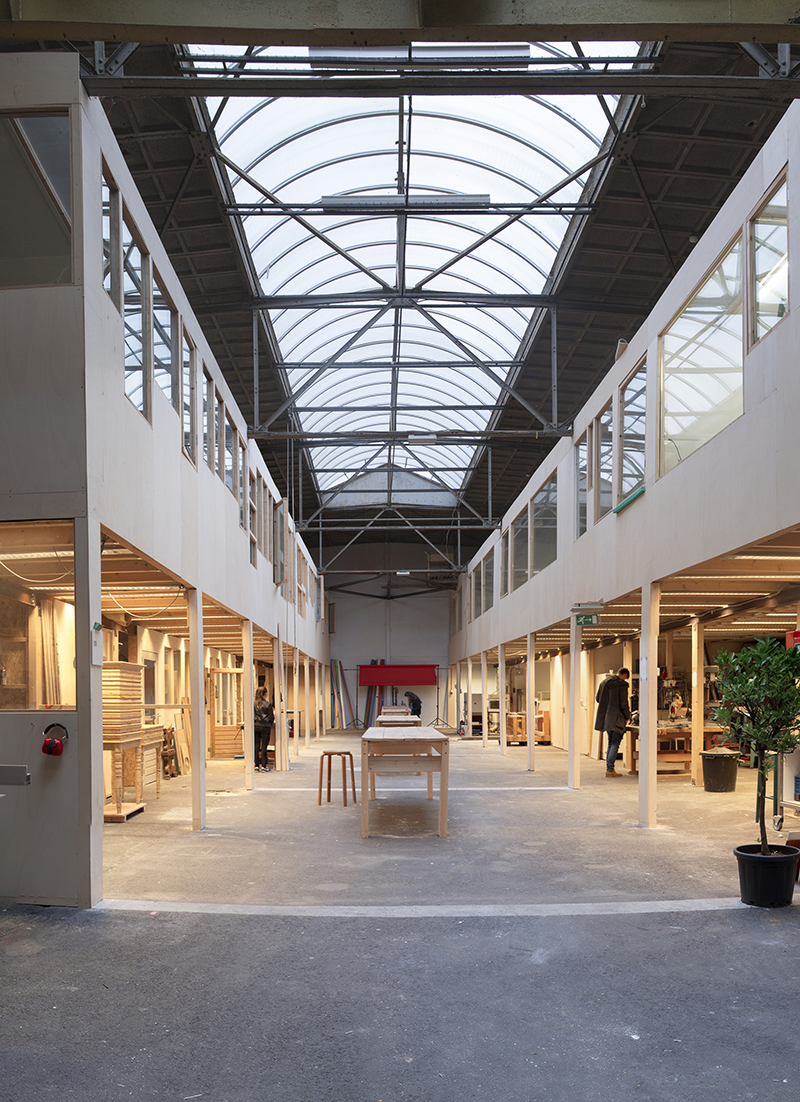 Do you work alone in your studio?
Yes, and currently I am in a situation where I need to expand my studio. It has mostly due to the increase in the amount and diversity of projects, which is, of course, great and challenges me professionally. I work with experts from many fields on daily basis — manufacturers, craftsmen and companies. It is a network I am trying to broaden to implement my projects.
To what extent have you worked on creating your own brand?
From the very beginning, I tried to search and develop a personal approach to the work process and I still continue to do that. When experimenting and developing a new material you create a unique niche you can grow in when creating new projects. Of course, the way how you communicate about your work is also very important. All of this naturally contributes to the creation of a personal brand. Many of my university mates have their own studios — this is unique to the Netherlands — that you can afford to be an independent designer and be successful by doing what you love.
What does everyday life look like in your studio, what kind of projects do you normally work on?
It might sound boring but it is communication that takes up the majority of my day — I spend it writing e–mails. The design phase is not the longest or the most complicated. The biggest challenge is to organise everything. The next step is to then work with journalists, publications, social networking, but it all contributes to the recognition of the studio and works.
Speaking of projects, usually those are custom orders from designers and architects that include my objects or materials in their projects. There are also shops and galleries for which I produce small series of glass furniture or mirrors. The third part are projects I initiate myself and participation in exhibitions several times a year.
This helps communicate to others what it is that I do and helps me establish contacts. I believe that the online world plays a big role, but if you create physical objects, they need to be shown physically. Photography is important as well — your work will be showcased for a week, but you need to communicate about it for another year.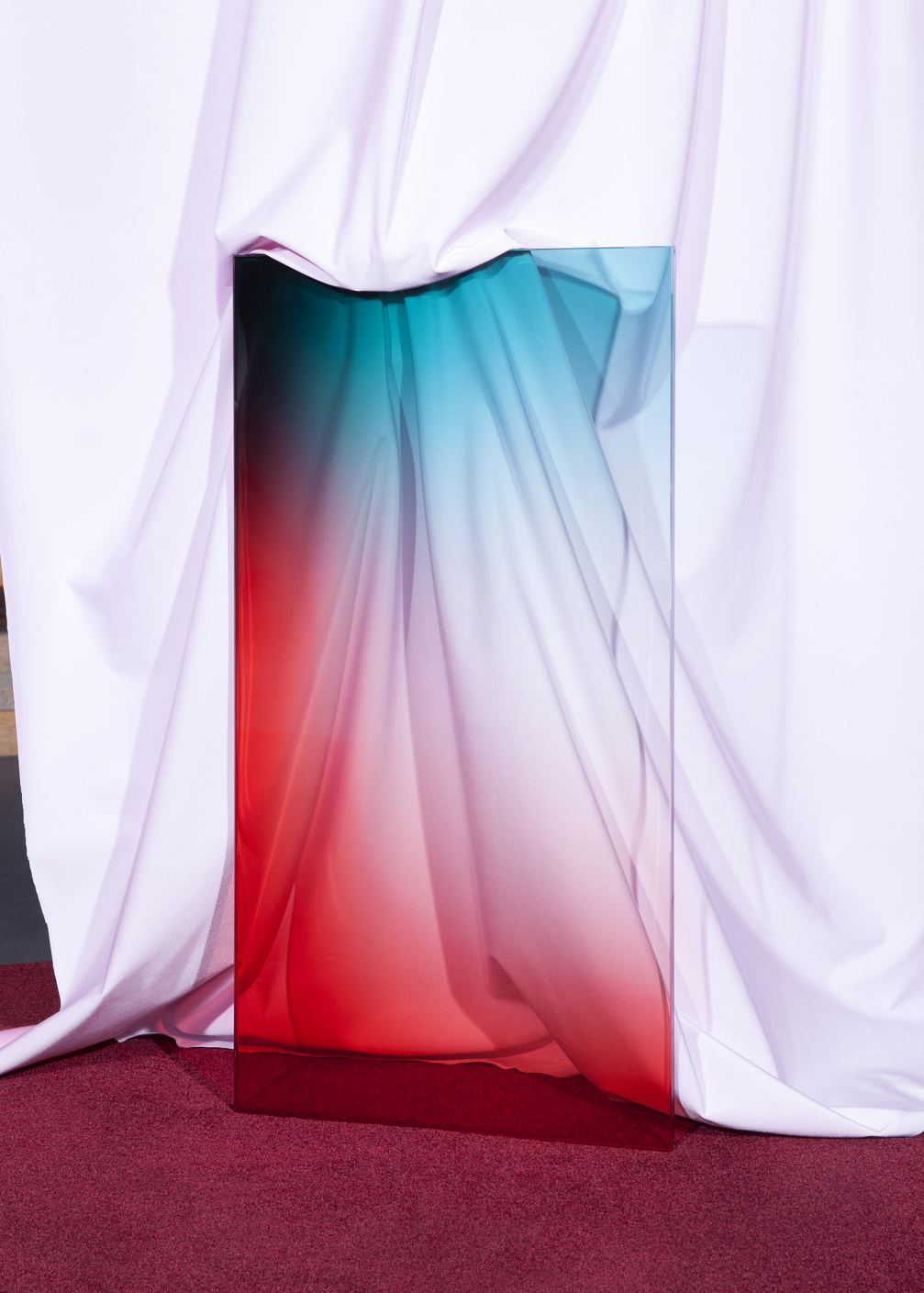 How do you choose design fairs and events in which you take part?
These things change as I grow professionally. At first it was important for me to finish the Academy and to take part in my graduation showcase. Next I wanted to be in Milan Design Week, because I knew this would be the most important platform for design. Of course Milan is enormous, there are millions of places for showcasing your work, but I was lucky because my work was chosen by Rossana Orlandi. Thousands of people come to her gallery each year to see emerging talents or just to enjoy an afternoon in her wonderful garden. Many of my contacts come from this place.
In 2015, I was a part of «Dutch Invertuals» — each year the collective organises a design exhibition in Eindhoven as part of Dutch Design Week and later also at Salone del Mobile in Milan. Based on a given concept, designers create work just for this exhibition. The result is impressive and this expo receives quite a lot of attention.
Last year, I also took part in the Design Parade in Hyeres, a prestigious design festival in Southern France, and got in the shortlist of ten designers. Young designers should really think about what or who they will be associated with, not just succumb to inertia.
I participated in the exhibition «Sight Unseen Offsite» in New York. «Sight Unseen» is a much visited design blog with quite a big influence in North America. This was a wonderful experience, a dynamic and fresh place for exhibitors.
You have often worked with architects and interior designers. Could you please tell us more about these collaborations?
I am willing to collaborate with other professionals, because that allows to change the scale and context. It is important that this is new experience to which it would be very difficult to come by working alone. In collaboration with Miami architecture studio «Rene Gonzalez Architect» I created a unique collection of glass samples based in the colours of the sea and the sky in Miami. My first work from this collection was a 4m long glass table, which was presented at a private residence during «Art Basel». Our collaboration continues — I have just started to work on the new «Alchemist» concept store in a «Herzog & de Meuron» building in Miami.
I have had similar collaborations with the Belgian architect Glenn Sestig – I took part in interior creation for the Raf Simons store in Dover Street Market, London. I am currently still working on another project — a restaurant in Mexico by Francisco Elias, which will open in late summer. This is the largest and most challenging collaboration I have had so far — a tremendous façade and the whole interior is made of glass.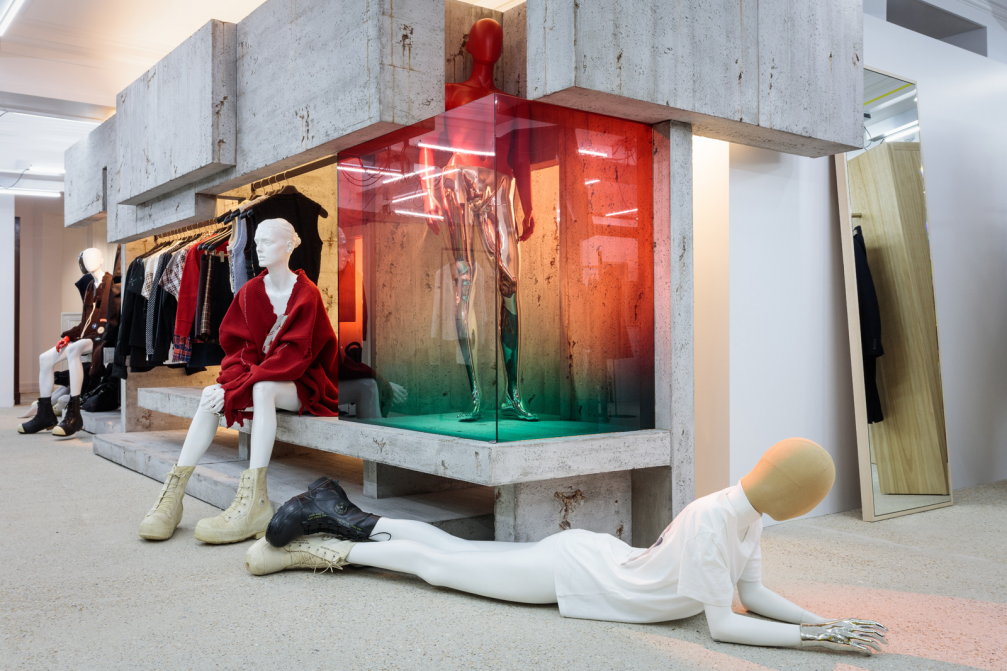 It seems like you do everything with a purpose and know very well what you want to get out of it. Where do you want to see yourself, say, in a couple of years time?
It is difficult to predict my direction — there are things you want to do, but you don't yet know how to get there, what steps to take to get to collaborate with particular brands or architects. At the same time, if you are active as a designer, you create a new project each year, talk about it, take part in exhibitions, you have high–quality photographs, you work with the press, then it is only logical for a design studio to develop, attract more attention and get involved in more interesting projects. Of course the work needs to be good enough for people to become interested.
How can you know that your work is good enough?
You never know (laughs). You are told. All you can do is try to do the best to your ability and be authentic, and people will notice that.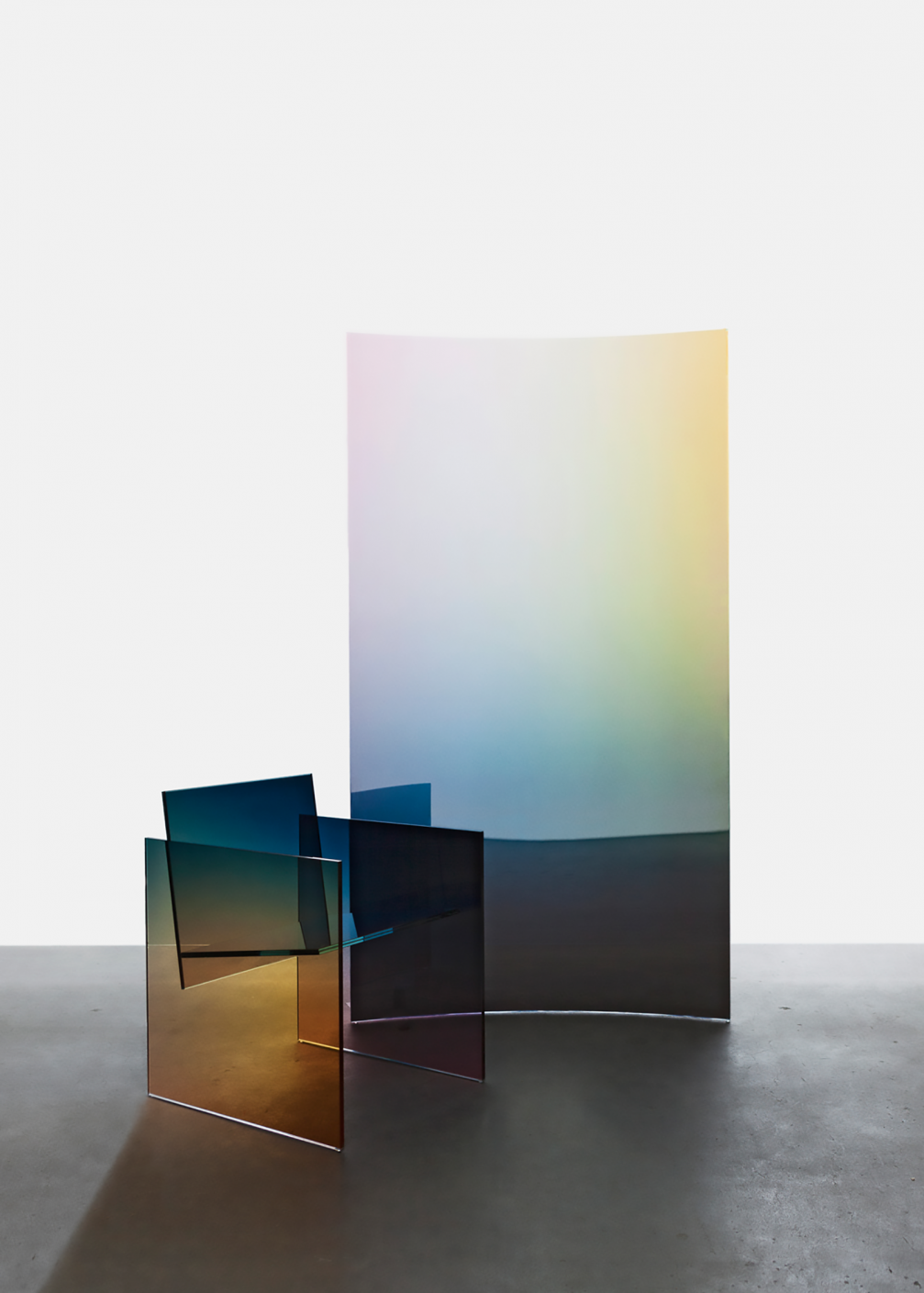 The interview was done in collaboration with MAD International Summer School of Design.