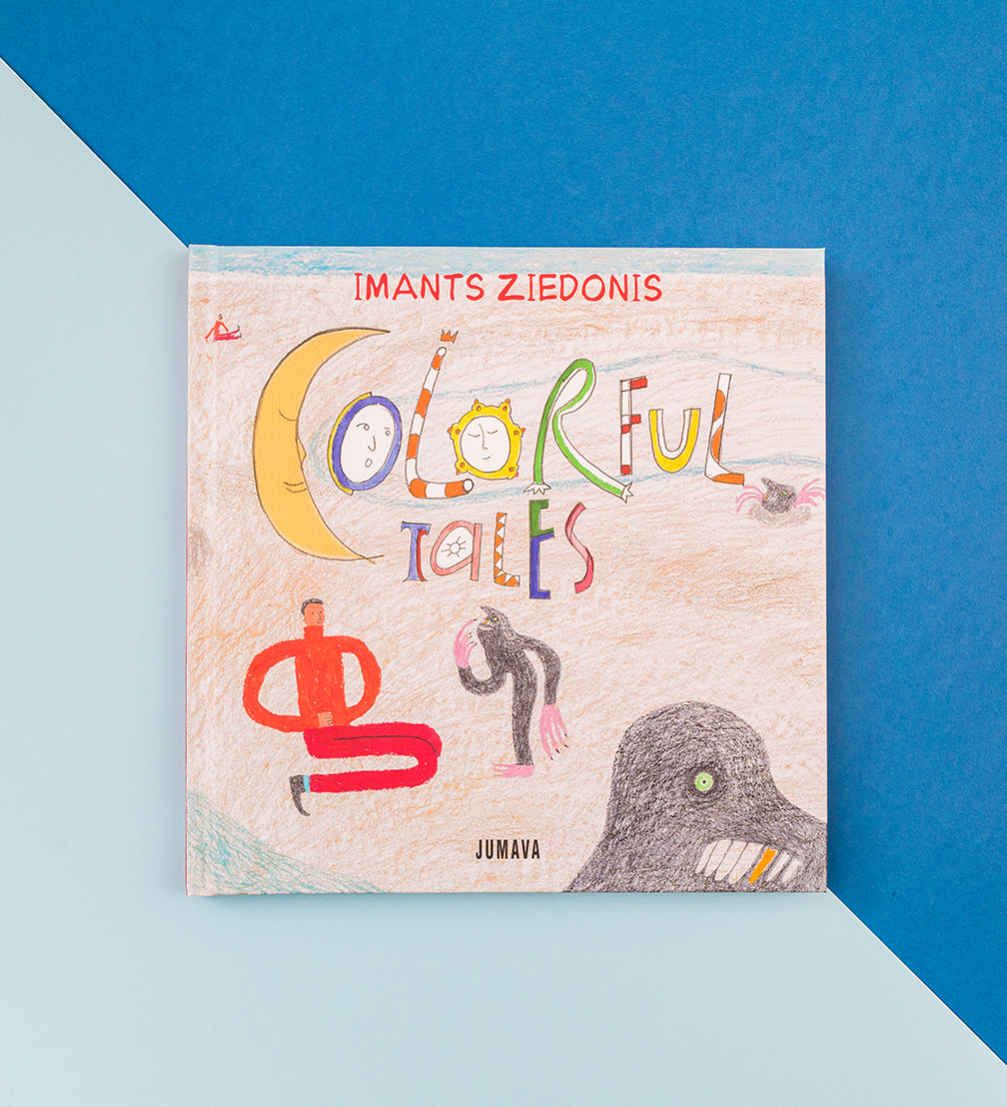 Photo by Lauris Aizupietis
The publishing house «Jumava» in collaboration with Imants Ziedonis' Foundation «Viegli» has published the book «Colorful Tales» in English, translated by Ieva Lešinska. «Colorful Tales» is a collection of eleven fairy tales written for children of all ages, illustrated by eleven talented Latvian artists, students and the faculty of the Art Academy of Latvia.
«Colorful Tales» has appeared in more than ten different Latvian-language editions since its original edition in 1973 and has been translated into several languages, including German, Russian, French, and Bulgarian. The book is a timeless piece of fiction that introduces its reader to a surreal and wonderful world of colour. The tales are translated in English by experienced translator Ieva Lešinska who explains the specifics of the translation process remembering her own experience with the literary work by Ziedonis in her youth: «With great interest and pleasure, we read poetry, epiphanies, documentary prose — and, of course, fairy tales — written by Imants Ziedonis. Not just how these stories were told, but also the emotion and actual meaning that lies behind words. Even if nowadays the hidden subtext can be sought only by historians, it cannot be ignored during the translation process, and at least we must make readers to understand that perhaps it's not as simple as it looks at the first glance.»
For the first time all eleven tales have been illustrated by the students and faculty of the Art Academy of Latvia, each choosing their colour: Anita Rupeika — The White Fairy tale, Laura Krūmiņa — The Yellow Fairy tale, Dārta Stafecka — The Brown Fairy tale, Vivianna Mara Staņislavska — The Blue Fairy tale, Elīna Ģībiete — The Black Fairy tale, Lote Vilma Vītiņa — The Red Fairy tale, professor Kristaps Zariņš — The Violet Fairy tale, professor Aleksejs Naumovs — The Green Fairy tale, Zane Zlemeša — The Gray Fairy tale, Dina Danosa and Rebeka Lukošus — The Amber Fairy tale. «The fairy tales are not easy to illustrate; therefore, the process was very creative. We tried to make the illustrations up–to–date, and the author of each drawing had the opportunity to choose her colour, while for The Polychromatic Fairy tale we all worked together,» explains Aleksejs Naumovs.
The book is published by the publishing house «Jumava» in collaboration with Imants Ziedonis' Foundation «Viegli» and supported by the European Commission's framework programme «Creative Europe». The book can be purchased in all bookstores in Latvia, as well as in online bookstores.