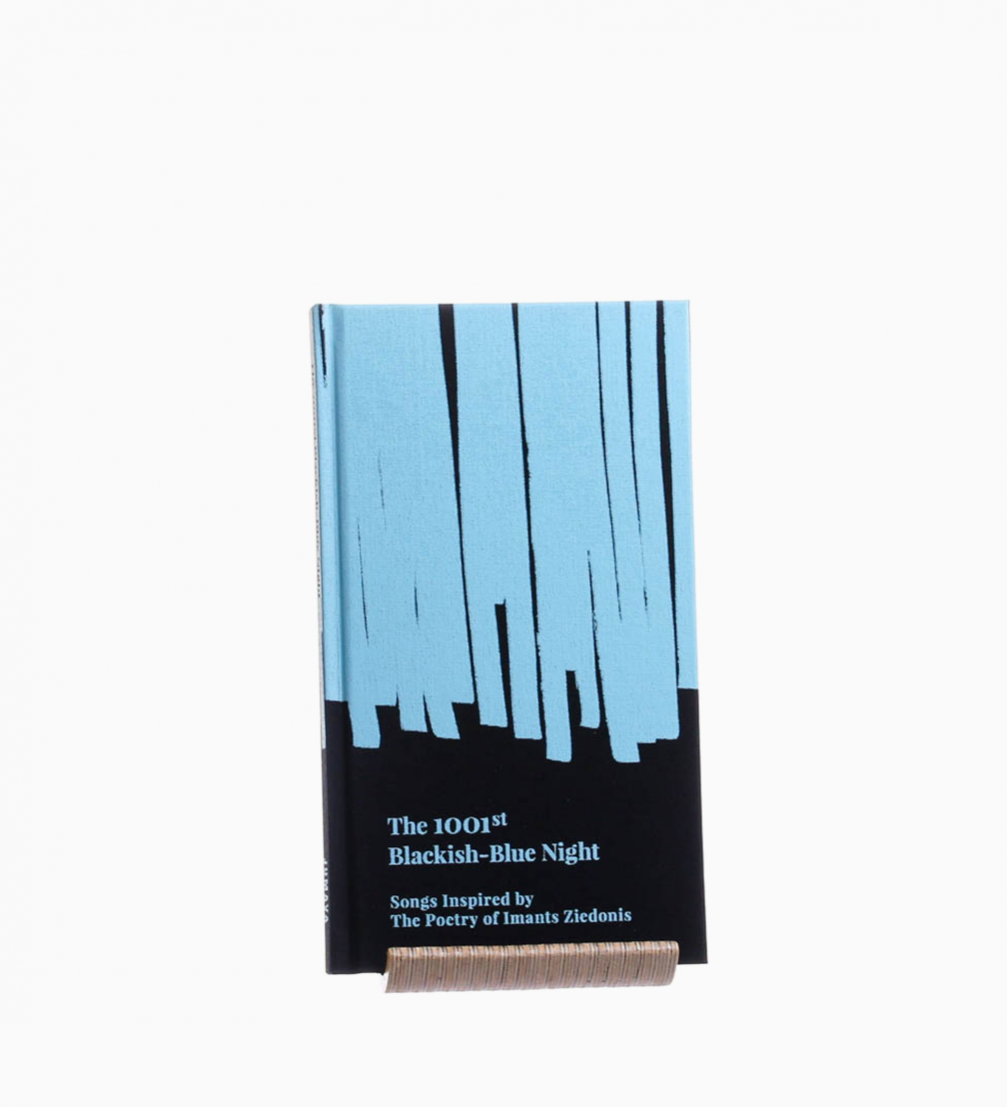 Latvian publishing house «Jumava» in collaboration with Imants Ziedonis Foundation «Viegli» has published «The 1001st Blackish–Blue Night», a poetry collection in English, comprising 33 poems set to music in the three «Viegli» records in the Latvian language. London–based Latvian artist Līga Kitchen created the book's visual design, developing a distinct visual identity for each of the songs.
«The 1001st Blackish–Blue Night», published by «Jumava», features poems of the three Imants Ziedonis Foundation «Viegli» music albums. The poems are translated by Ivars Šteinbergs in collaboration with several authors in Latvia and abroad. Additionally, the book includes stories of how Foundation «Viegli» chair of the council Žanete Grende and musicians Goran Gora, Renārs Kaupers, Māra Upmane–Holšteine, Raimonds Gusarevs, and Jānis Strapcāns encountered Imants Ziedonis.
«The book is full of living sensations about Latvia, which is the cornerstone of Ziedonis' museum, and you can hum along the songs with the book, drawing from the depths of the master's poetry. The music album cover artist Līga Kitchen has created a beautiful design,» emphasizes Žanete Grende, chair of the Imants Ziedonis Foundation «Viegli» council, the initiator of the book.
Artist Līga Kitchen, author of the book's design and cover art of all three Foundation «Viegli» music records, explains: «The book was created as a visual, physical interpretation of Ziedonis' poetry, the goal of the illustrations being to complement the poetry, play with its elements and the sensations it inspires. The book combines two contrasting stylistic directions: first, a direct, almost anatomical approach; the other involving abstract, graphic, clean lines. The parallel, rhythmical interplay of the two elements continues throughout the book (at times as if unexpectedly, at times to the reader's mild annoyance), in my view, much like Ziedonis' poetry — at times extremely frank and open, at other times symbolic, intricate, abstract. The book is a collection of poems chosen by musicians from the Foundation «Viegli» music records: «Viegli», «Vakars. Pietura. Jasmīns», and «Loks paliek vaļā», so for me as the artist of the book and the album cover designs it was important to combine and introduce parallel visual references to the album cover art in the book. I am genuinely pleased that a book of Ziedonis' poetry is available in the English language — it is a meaningful way to speak of ourselves and of our culture, but also of the fact that all of us — people — are so alike,» says Līga Kitchen.
The book is published at «Jumava» publishing house in collaboration with Imants Ziedonis Foundation «Viegli», with support from the EU Creative Europe programme. «The 1001st Blackish–Blue Night» is for sale in all Latvia's bookshops and book retailers online.