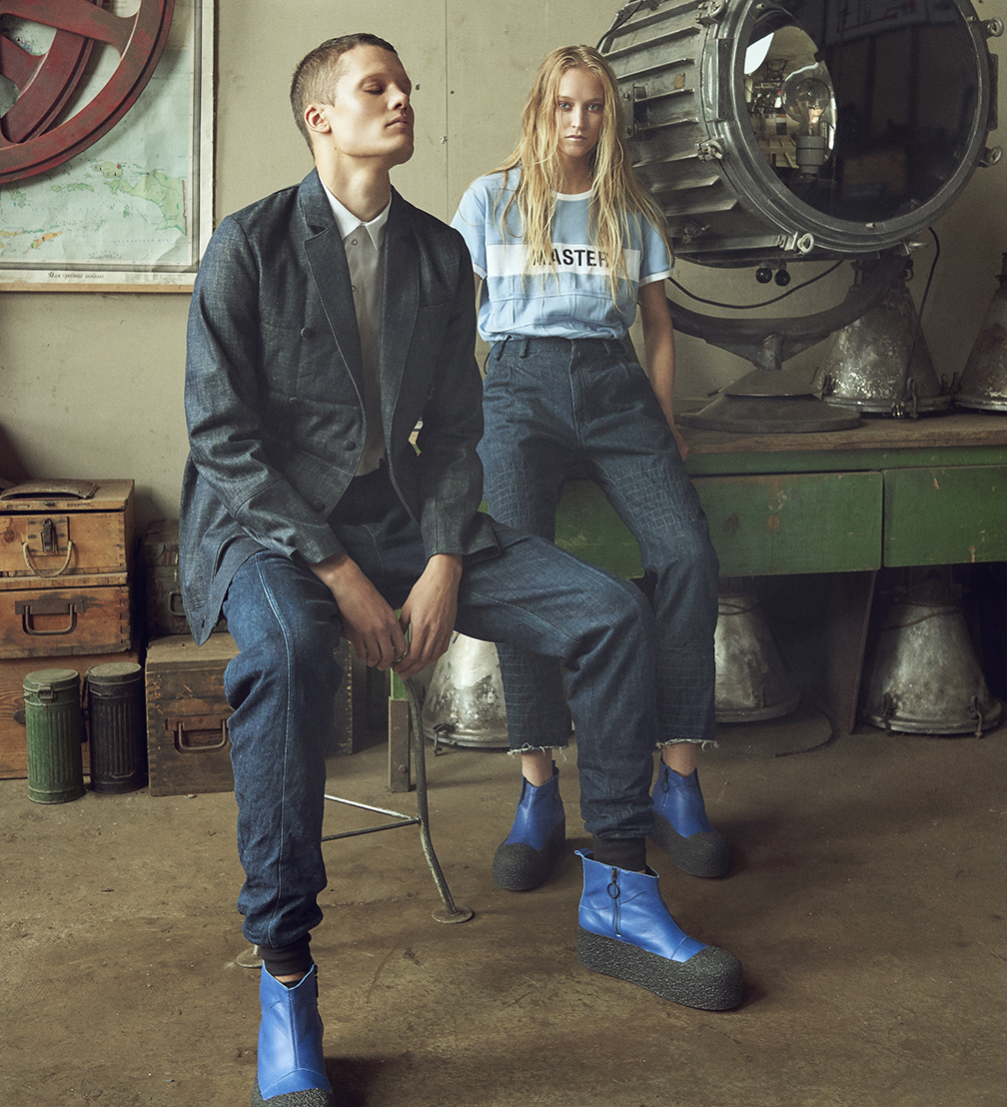 Photo by Kristīne Krauze–Slucka
Although summer is usually a time for vacations and relaxation, the intelligent streetwear brand «One Wolf» has dedicated its Summer–Spring 2018 collection to craftsmen and enthusiasts for their profession — to handymen with «golden hands» whose life is their work and who are masters of their thing. This spring, the collection was chosen among the 20 finalists of the Design Award of Latvia.
Although the inspiration for the collection «Repair 2» comes from work wear, cotton fabrics, and especially denim, dominate the collection of 22 looks. The white colour symbolises perfection, order, and simplicity. The founder of «One Wolf», designer Agnese Narņicka reveals that she was inspired by various personalities of handymen, interiors of their workshops, creative work environments and its details.
Unlike previous unisex collections, «Repair 2» also features models specifically designed for women — skirts and dresses of various materials. Although seemingly feminine, these garments also feature construction and detail solutions typical of men's wardrobe, as well as the robustness of work wear.
In the collection, one can find a set of garments for the modern city dweller. Experiments with constructions and silhouettes are an intrinsic proposition, breaking conventions of genders and clothing while mixing up opposing details and contrary styles of classical and sporty garments. The clothing is made in small factories in Latvia, preserving traditions of local craftsmanship.
The jury of National Design Award of Latvia 2018 chose the collection «Repair 2» as one of the competition's twenty finalists. «A good balance between edginess and wearability. It's a fresh collection that will surely appeal to a young audience,» says the jury member, long–standing «G–Star Raw» creative director and designer, strategy design and interior design expert Pieter Kool.
In Latvia, the «One Wolf» garments and accessories are available at its studio, Lāčplēša iela 10, Riga, and in stores «Awake Riga», «Bold Concept Store», «Bang Bang Shop&Coffee», «Mūsmāja». They are also showcased in Lithuania, Estonia, the Netherlands and on the brand's online store.