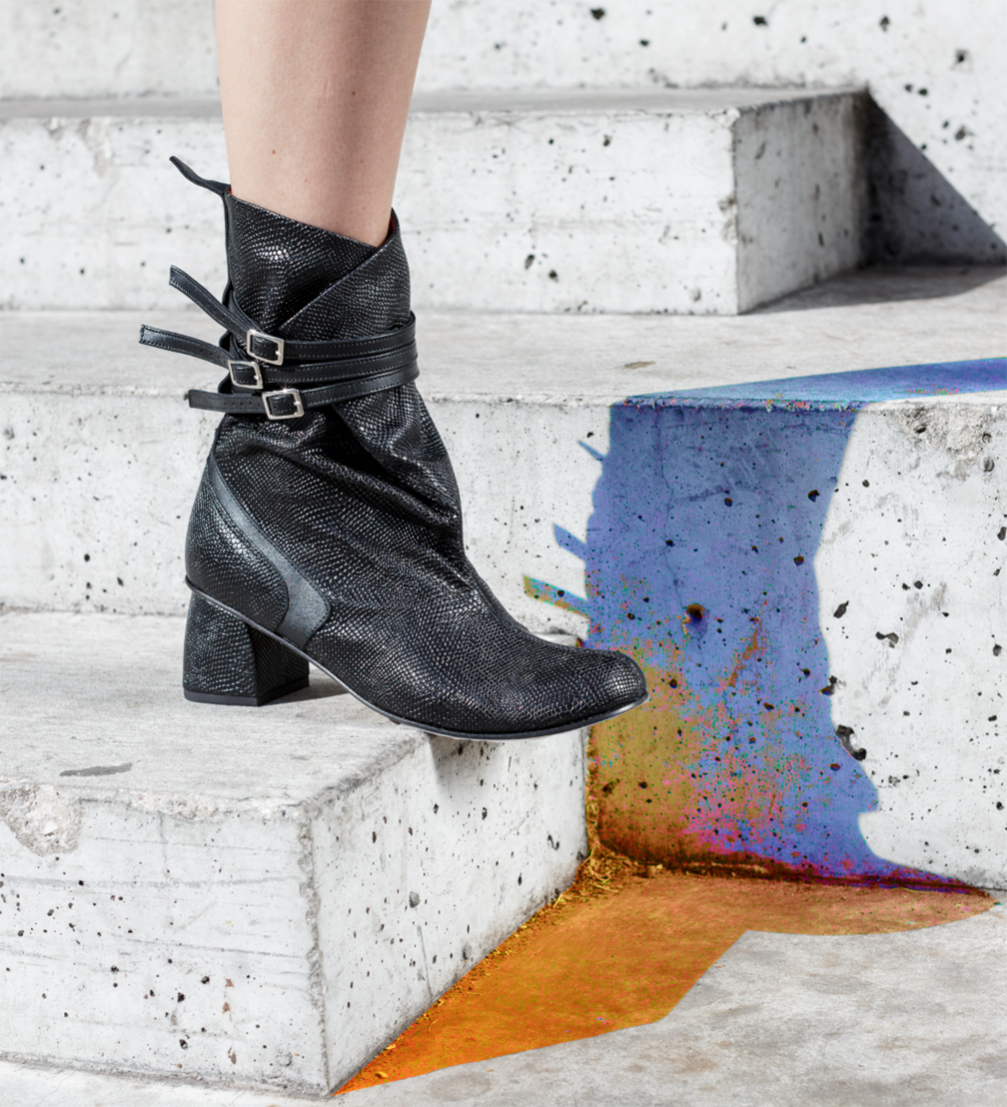 Photo by Andrejs Strokins, editing — Zigmunds Lapsa
Continuing to draw inspiration from captivating life stories, this autumn designer Elīna Dobele presents new models of shoes and boots. They are devoted to women who have achieved outstanding accomplishments in various fields. The new collection also confirms Dobele's growing interest in bag design.
Designer Elīna Dobele says that this year she has decided to stop making traditional Spring–Summer and Autumn–Winter collections. «During the past two years, the seasons have melted together. Boots are demanded both in winter and summer and shoes — throughout the year,» Elīna observes. Instead, she will continue to create smaller collections during the whole year, following the demand from her clients.
The shoes presented this autumn, was created keeping in mind their potential owner — a mature woman with her own unique style. The dominant colour is black in various textures, complemented with red accents. Elīna also has used silver–dyed and distressed leather as well as pony hair leather with silver–coloured spots and other effects. As in previous seasons, each piece of the collection is named after successful women who hold achievements in various fields such as maths, sports, politics, art and others. For example, the boots «Ashley» are inspired by the deaf motocross champion Ashley Fiolek, boots «Grace» — after the Irish pirate queen Grace O'Malley and so on. Several pieces were created in collaboration with the Belgian fashion brand «Lena Lumelsky».
More and more Elīna Dobele focuses also on bag design. «Although in Latvia women are fond of medium and large bags, I like the idea of a small handbag. I think that a small purse gives a woman a feminine fragility and makes it necessary to plan the day ahead because there is only room for the most important things,» Elīna comments.
The visual materials for the latest collection by Elīna Dobele are carried out by the professionals — photographer Andrejs Strokins and graphic designer Zigmunds Lapsa. The shoes by Elīna Dobele are available online and at the brand's boutique, Zigfrīda Annas Meierovica blvd. 16–1, Riga.