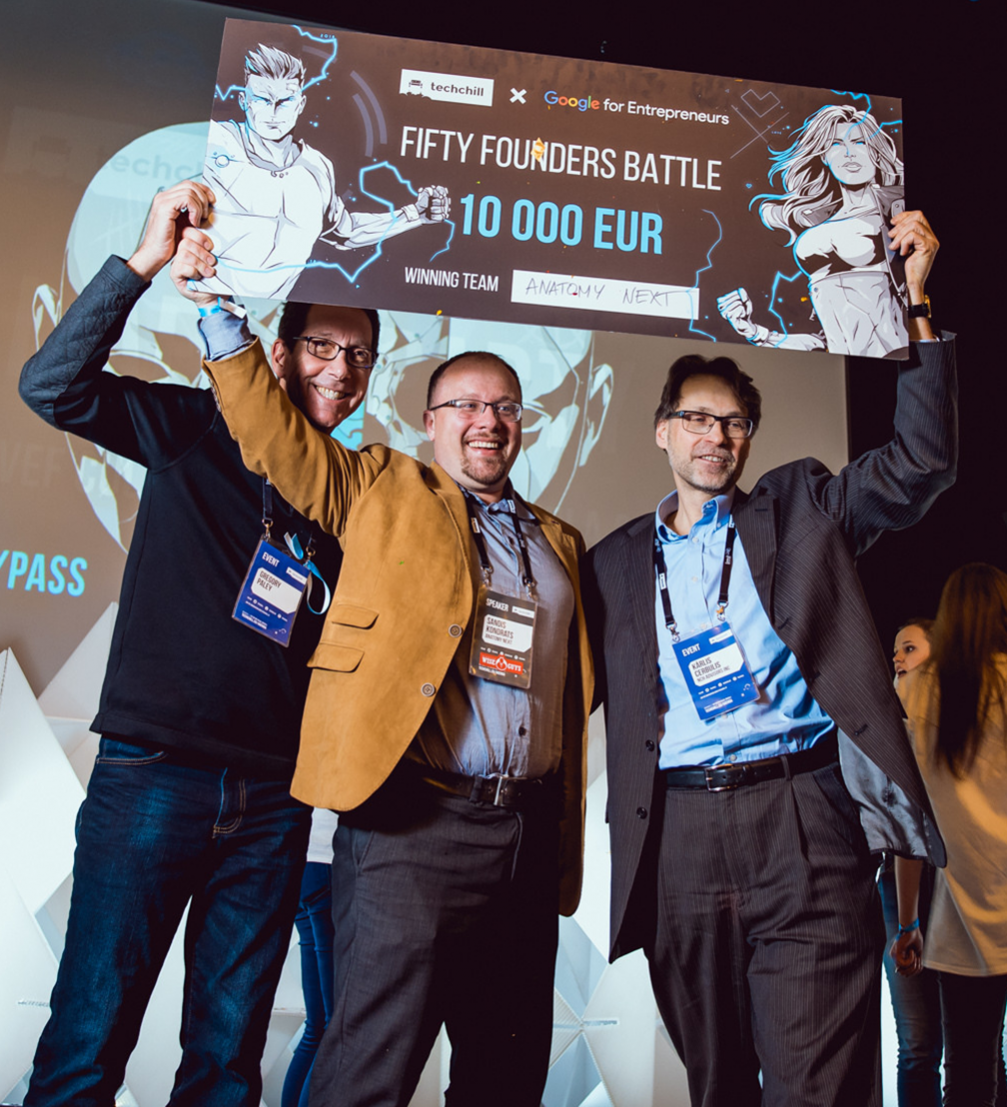 «Anatomy Next» team. Publicity photo
Until December 14, early–stage start–ups are welcome to apply for «Fifty Founders battle», hosted by «TechChill», and compete both for recognition and the main prize of 10 000 euros. Fifty finalists will have an opportunity to pitch their idea on stage in front of investors, potential clients, media and other attendees of the «TechChill» conference.
This time, «Fifty Founders battle» is partnering with «Silicon Vikings Startup World Cup», a global start–up competition with a goal to foster innovation and entrepreneurship opportunities for start–up ecosystems all over the world. In addition to 10 000 euros for the winner, «Silicon Vikings Startup World Cup» will choose one start–up that will receive the fast track to their Finals in San Francisco, the USA on May 17, 2019.
The 50 competing start–up finalist teams will be divided into five verticals according to their industry — fintech, deep–tech, software as a service (SaaS), Hardware & IoT and social start–ups (impact). In the semi–finals of the «Fifty Founders battle», on the first day of the conference, February 21, 2019, the teams will have time for 3–minute pitches on Founders stage evaluated by a professional jury that includes experts from each particular field. Afterwards, five finalists will be given a chance to pitch again on the second day of the «TechChill» 2019 on the main stage. Start–ups will have a chance to pitch their ideas not only to the official jury, but also to international VC's, business angels, accelerators, media, and the conference's audience.
Previous «Fifty Founders battle» winners include Baltic success stories such as «Infogram», «TrackDuck», «Edurio», «Nordigen» and «Sprayprinter». Last year the «Anatomy Next» won the competition. «From the application process to pitching on stage, the Fifty Founders battle played a major role in making us clarify our value proposition during the fundraising. Winning the battle not only added 10 000 euros to our cash flow but also to the business development by offering great publicity in international media already from the announcement of the 50 selected founders,» shares Sandis Kondrats, the Co–founder and CEO of «Anatomy Next».
«Fifty Founders battle» is a part of the tech, start–up and entrepreneurship inspiration event «TechChill» that will take place in Riga on February 21 and 22, 2019. More information on the event and the start–up competition is available on the website of the conference. The application deadline is December 14, 2018.