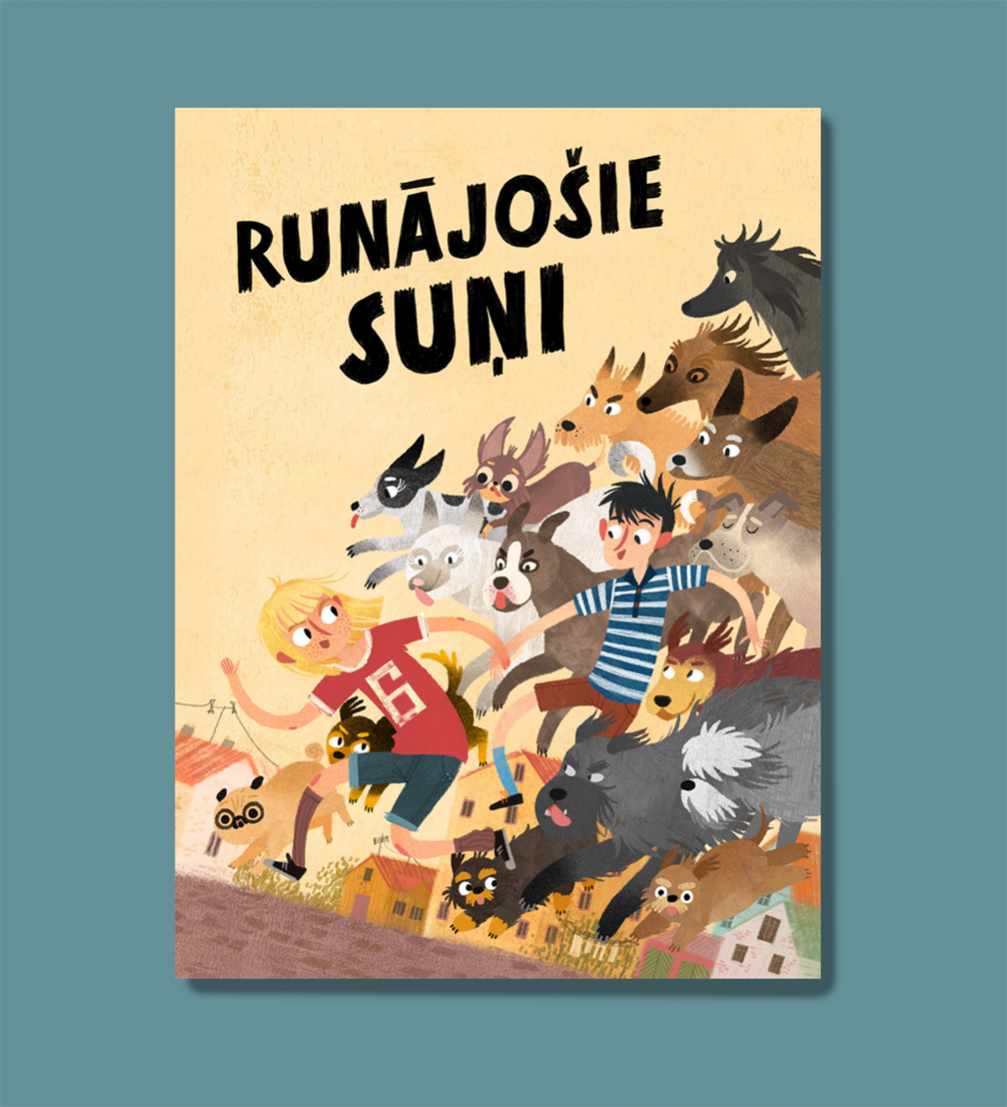 Cover illustration by Elīna Brasliņa
The children's book publisher Liels un Mazs has just released a comic book «The Talking Dogs» (in Latvian «Runājošie suņi»), illustrated by Elīna Brasliņa. The comic is created after Edmunds Jansons' animated feature film «Jacob, Mimmi and the Talking Dogs» (Studio Atom Art).
The adventure story about an unusual friendship between two kids and talking dogs in a Riga's historical suburb called Maskachka began with Luīze Pastore's book «Dog Town» which was published by Neputns in 2013 and illustrated by Reinis Pētersons. The book received the Annual Latvian Literature Award and is also published in English by Firefly Press. Based on the Pastore's book, an animated film «Jacob, Mimmi and the Talking Dogs» by Edmunds Jansons was released earlier this year and will have its TV premiere on September 1. The film's artist Elīna Brasliņa has now drawn a comic book «The Talking Dogs». Unlike watching the film, in the comic, one can follow the adventures from the perspective of the Maskachka's talking dogs.
«Elīna Brasliņa is a rocket of illustration — fast, accurate and dazzlingly talented. She can draw everything, from a black dog in dark to a colourful jungle which is still in a writer's imagination. Her creative style never gets boring because she always adds something unexpected to her work. She has already received several awards, including the International Jānis Baltvilks Prize,» says Alīse Nīgale, the director of Liels un Mazs.
Together with the short dialogues, adapted for the comic by Sanita Muižniece and Inese Zandere the witty and detailed illustrations by Elīna will develop children's imagination as well as textual and visual literacy. The book is intended for preschool and primary school children.
The comic book «The Talking Dogs» is available at the publishing house «Liels un mazs», Tērbatas iela 49/51–12, Riga, as well as online and in bookstores in Latvia. The publication was supported by the State Culture Capital Foundation and Arctic Paper.