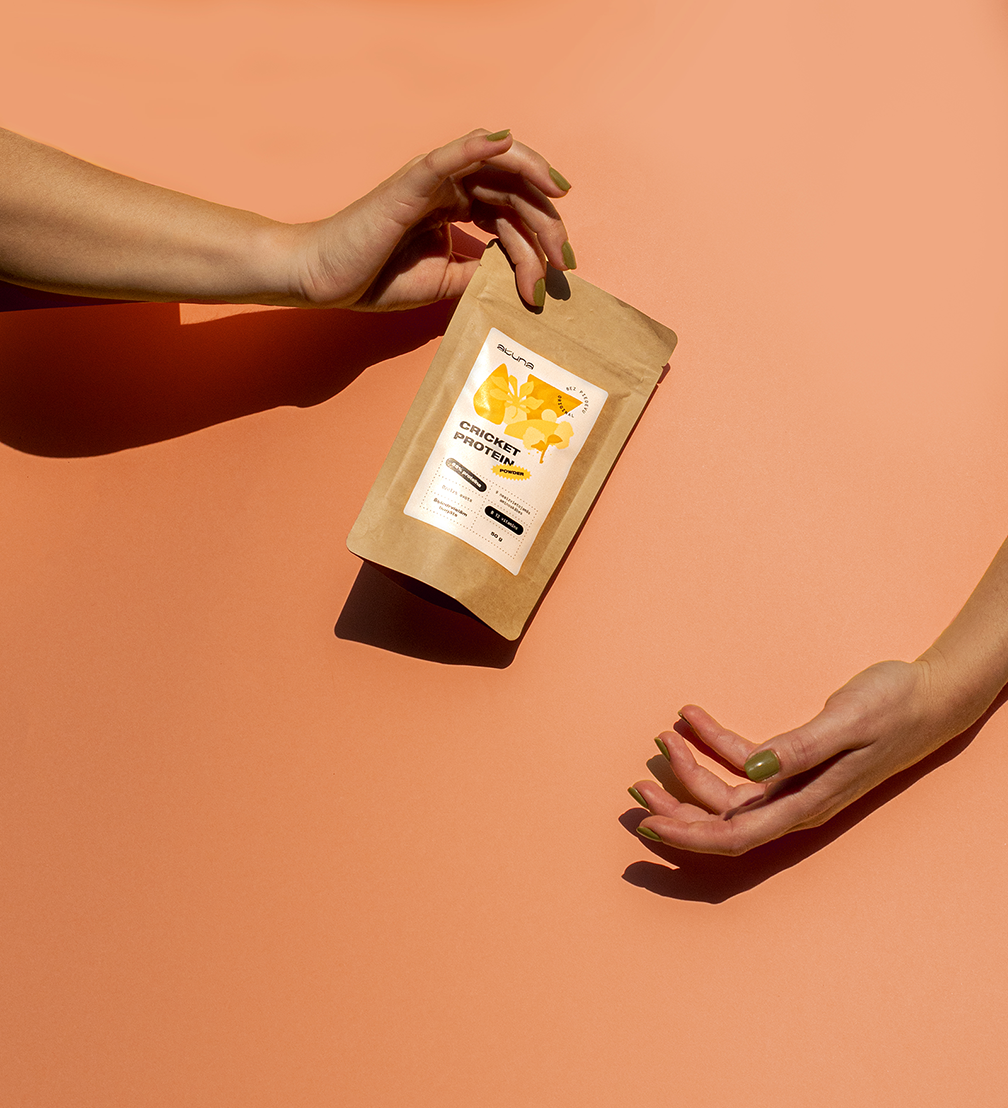 Image by Paula Bukeiko, Helmuts Jaunzems–Pētersons
Thinking about the future today, Latvian brand Akuna offers the superfood of tomorrow — cricket protein — which is not only healthy, but also environmentally friendly. The bright and cheerful identity of the brand encourages to give in to the unknown and try this bold product.
As concerns about the negative impact we have on the environment are growing, new ways of living more environmentally friendly and consuming fewer resources are being sought. Our eating habits are also changing. The food industry is responsible for 26% of greenhouse gas emissions. About half of the habitable land is used for agriculture, and this sector accounts for 70% of total freshwater consumption. Given that the world's population, and therefore the demand for food, continues to grow, it is necessary to find solutions for a healthy diet that is sustainable.
One of the sources of protein that scientists have drawn attention to not only because of its high nutritional value but also because of its resource-efficient cultivation is insects. Compared to cows, crickets grow thirteen times faster and consume twelve times less food. They require 2,000 times less space to grow and emit 100 times less greenhouse gases. These insects not only have less of an impact on nature, but are also healthy for the human body. Cricket protein contains four times more iron than spinach, three times more potassium than bananas, ten times more vitamin B12 than salmon and almost three times more protein than beef.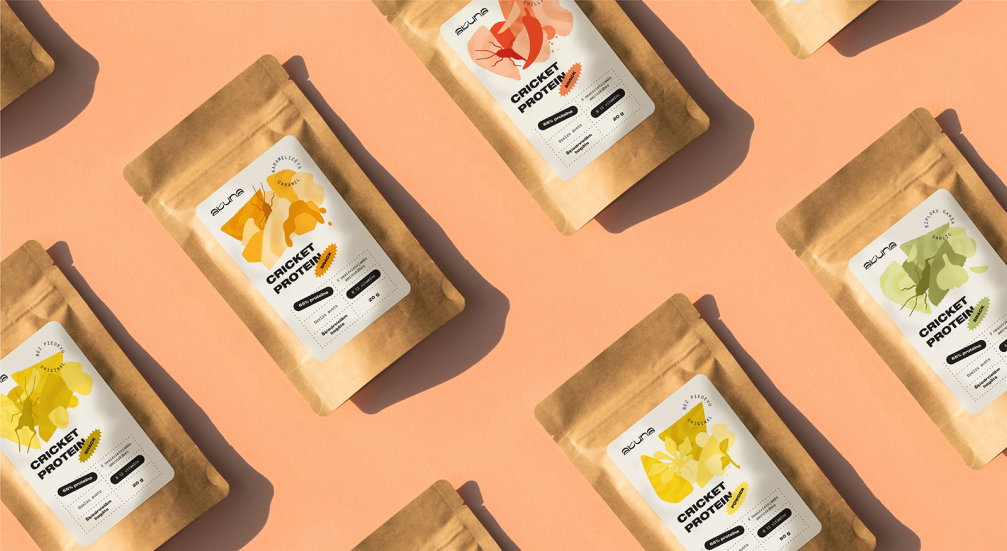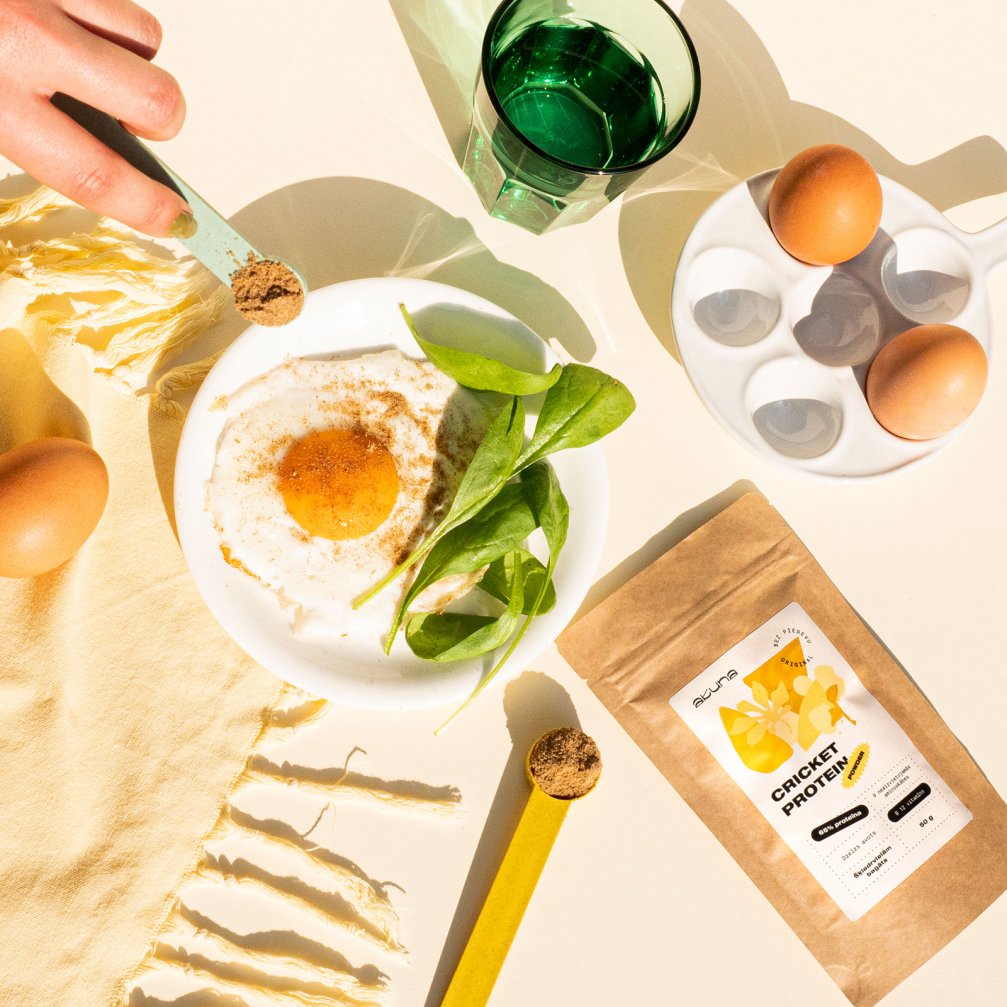 Now, this future superfood is also produced in Latvia. Akuna offers cricket protein powder and caramelised cricket snacks. The founder of the company Jēkabs Vanags reveals that the idea for the production of such a product was born to him already in 2017, when he learned about cricket protein after attending nutrition courses. During his research, it became clear to him that this is a promising industry that is also environmentally friendly, so in 2019 he opened his own cricket farm. At present, it is closed in order to introduce more efficient growing methods, but the crickets used in Akuna products are grown nearby, in neighbouring Lithuania.
Insect eating has not yet become popular in Europe and Latvia, so the way the product is presented plays an important role in it's attractiveness. The Akuna brand identity was developed by designer Paula Bukeiko. Since for most people eating insects is associated with something scary, one of the goals of the brand has been to create the opposite feeling. With this in mind, Jēkabs and Paula quickly realised that it was curiosity and fun that encouraged people to try crickets for the first time, so when developing the concept of identity, joy of life served as a guiding principle. As the company's vocation is to live in a clean and pleasant environment, elements of nature are also used in the identity.
Concern for nature has also been an important factor in the choice of product packaging and transportation packaging. Inspired by crickets and other natural forms, a logo, product illustrations, graphic elements and a colour palette were created. The graphic language of the brand is designed to provide an opportunity to emphasise the most important things and attract attention with bright colours.
More information about Akuna and the brand's cricket protein products can be found on the company's website.