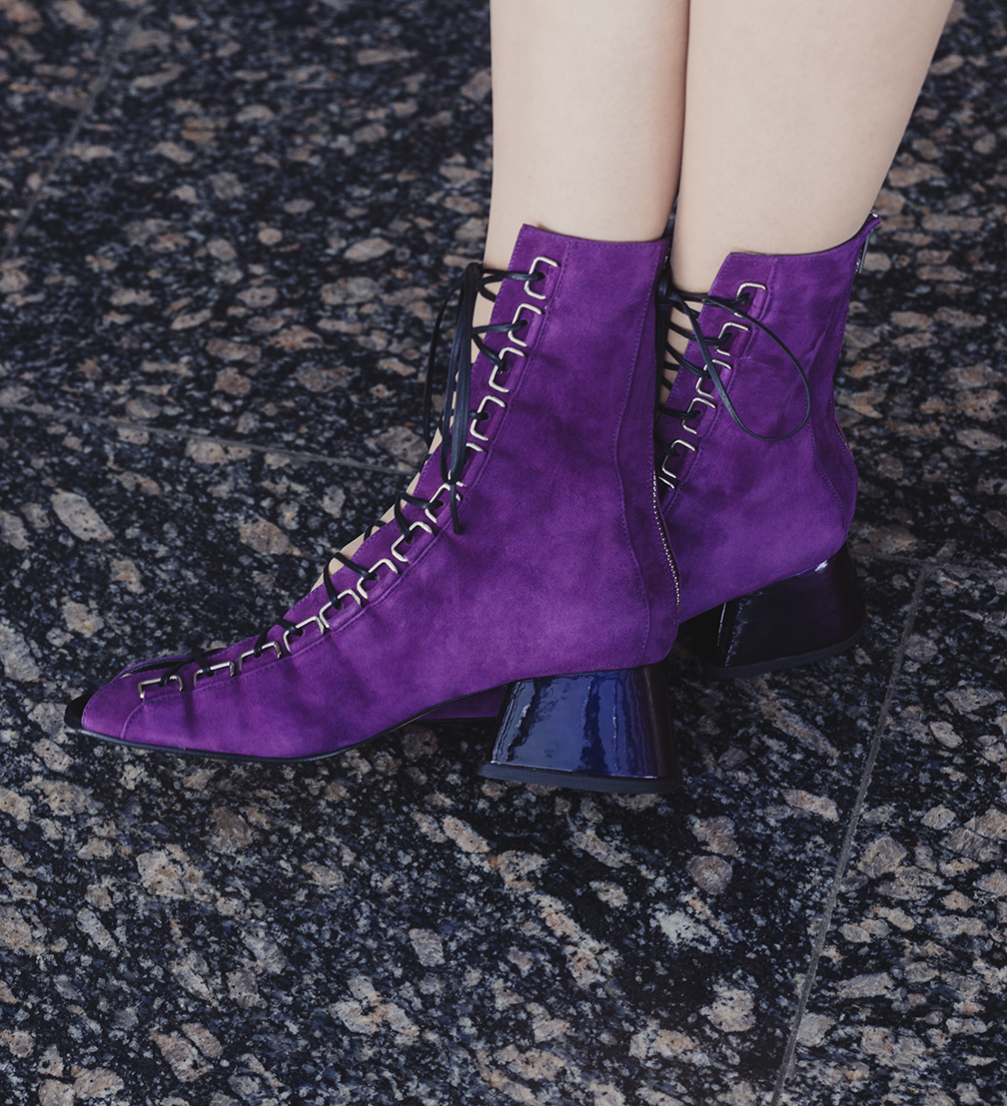 Photo by Andrejs Strokins
The new spring–summer 2016 collection «Alvīne» from the shoe designer Elīna Dobele is not only a very personal journey back to childhood, but also a turning point in her creative work. The saturated colours complement rather expressive, unprecedented forms of heels.
«Ever since childhood the attic in my family home in Kurzeme has been for me the most marvellous magic chest in the world! One day last summer I found my grandmother's leather pumps from the sixties — square–toed, low–heeled, toes carefully stuffed with cotton balls… These were the same shoes I used to secretly try on when I was little,» designer Elīna Dobele reveals what inspired her to «change her tools and point of view» to create the spring–summer 2016 collection, which is named after Elīna's grandmother Alvīne. «Alvīne» is also the name of the most splendid shoe model of the collection — women's lace–up wingtip shoes of saturated burgundy suede with golden dust, while others embody powerful characters of Latvian ladies Austra, Velta, Vilma, who were Alvīne's sisters, and Zenta.
«Alvīne was a real housekeeper in her rural home, however, she always took care of her appearance — cotton dresses, aprons for special occasions. She even used a burnt clove as an eyebrow pencil. There was always a white tablecloth and dinnerware set on the table. Only her overworked hands indicated how hard life really was back then,» Elīna recalls her grandmother who has always possessed obstinacy, pride and strength. She taught her granddaughter to understand nature, work and love, and now Elīna has created the collection as a sincere tribute to all bold and elegant grandmothers. It doesn't mean though that the shoes are designed older ladies only.
The interplay between geometric shapes and lines is a characteristic feature of works by Elīna Dobele, but for the first time such emphasis has been put on experiments with heels. The sculptural shape brings forward the skilful craft of the shoe masters and the designer's experience in architecture. All design solutions and elements for «Alvīne» are chosen to tell the story within the collection. The materials and colours are solid and, at the same time, very sophisticated — gold dust, soft goatskin, the saturated tone of dark chocolate, purple pony skin and thistle violet.