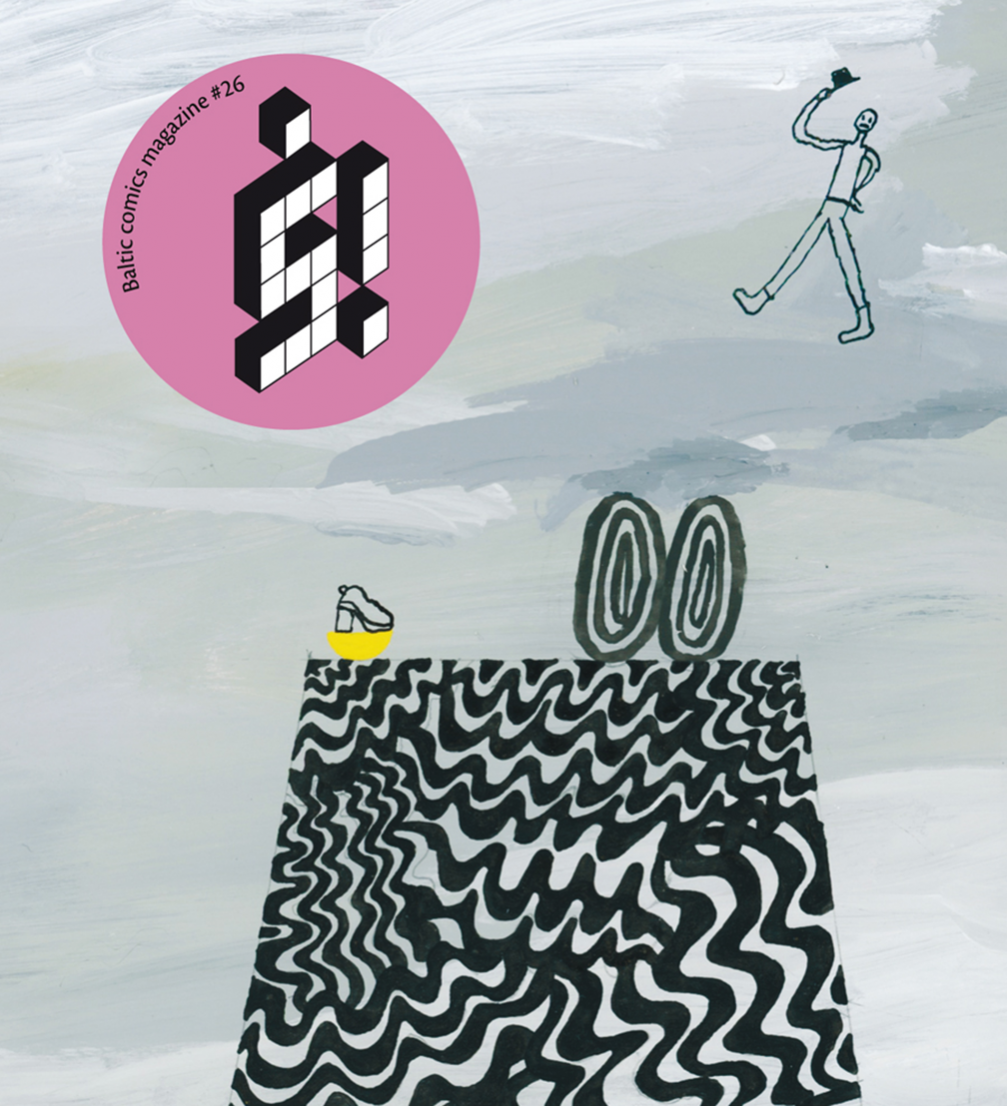 Cover illustration by Zane Zlemeša
«Dada», the 26th issue of the comic culture magazine «š!» has just been released. This time its pages feature visual stories, inspired by Dadaism — the international art movement, which began in Switzerland in 1916 and spread quickly in both Europe and the US. Dadaism is known for experimental and provocative approach to creating art, unusual combinations of materials, collages — these are the features that partly reveal also in «Dada».
Sanita Muižniece, a representative of «kuš!» publishing, reveals that the latest «š!» issue is, probably, one of the most experimental they have ever released. To celebrate the centenary of Dadaism «kuš!» publishing has invited 21 artist from 13 countries to create a comic as a paraphrase of the early 20th century art, literature and music movement, which has influenced culture from then until the present day. Dadaists once denied that any sense could be found in their art and the poet Tristan Tzara proclaimed in the movement's manifesto that «Dada does not mean anything». The authors of «š!» «Dada» issue also have indulged in the absurd, combining diverse words and forms.
The introduction of «Dada» is written by Agathe Mareuge, researcher of literature at the University of Zurich, while the artists are Andrew Burkholder (USA), Brie Moreno (Canada), Cátia Serrão (Portugal), Daniel Lima (Angola), Dāvis Ozols (Latvia), Dunja Janković (Croatia), Dylan Jones (USA), Ernests Kļaviņš (Latvia), Jaakko Pallasvuo (Finland), José Ja Ja Ja (Spain), König Lü.Q. (Switzerland), Līva Kandevica (Latvia), Maija Kurševa (Latvia), Marc Bell (Canada), Mārtiņš Zutis (Latvia), Olaf Ladousse (Spain), Roman Muradov (Russia), Saehan Park (South Korea), Sammy Stein (France), Vincent Fritz (Germany) and Zane Zlemeša (Latvia).
«š!» is published with the support of Latvian State Culture Capital Foundation. Available online and in store «NicePlace Mansards» and gallery «Istaba».