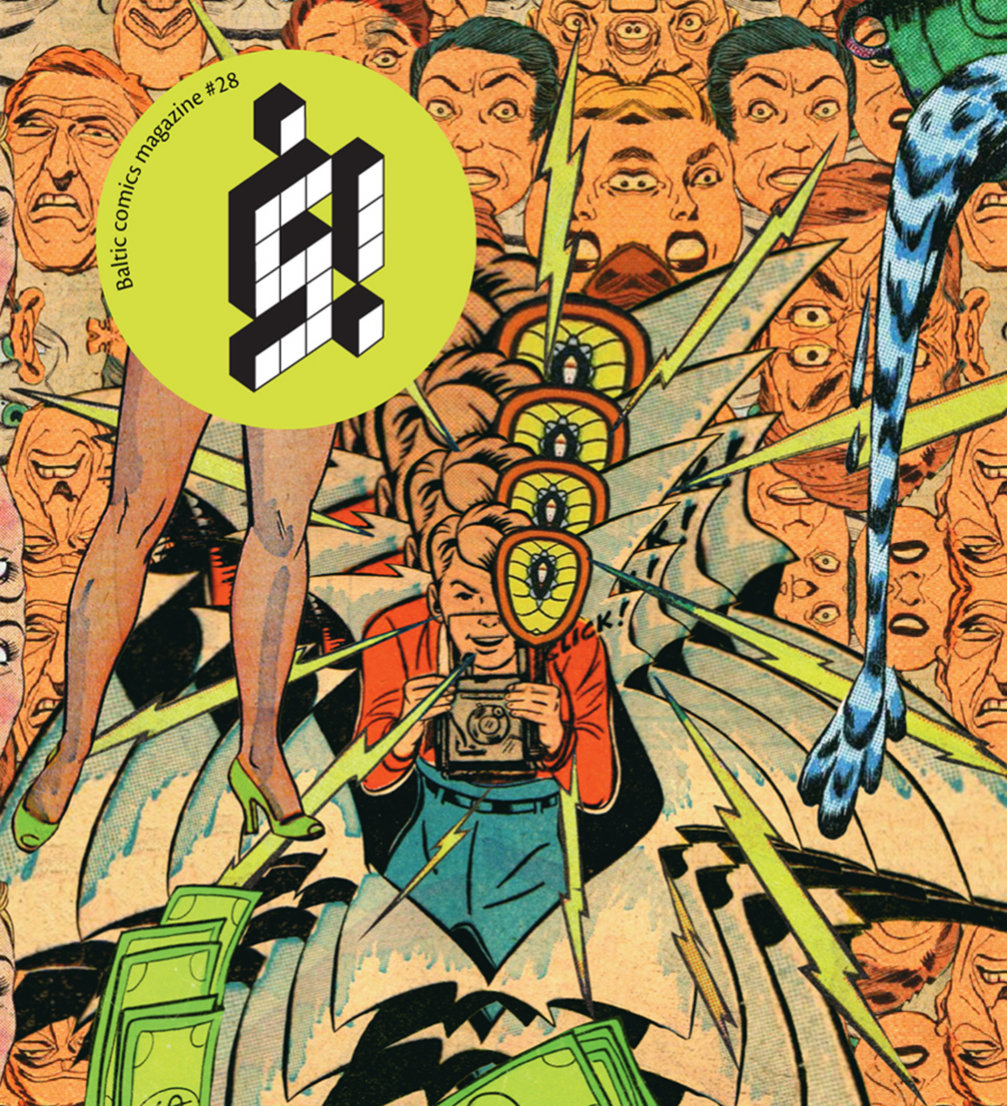 «š!» N°28 cover by Samplerman
This spring, the comics publishing house «kuš!» has released a bunch of new issues that differ both in content and format. New graphic short stories are published within the comic series mini «kuš!», as well as this year's second edition of «š!» and the third «kuš!» mono issue by Theo Ellsworth.
In late February, the comic culture magazine «kuš!», in collaboration with the Goethe Institute, organised a comic workshop, devoted to empty houses and abandoned places, led by artist and illustrator Paul Paetzel. The participants were Latvian and foreign artists and illustrators, whose works are now compiled in the poster book «New Perspectives», released in May.
The four 28–page mini «kuš!» comics N°51–54 are also out — «Mirror Stage» by Jaakko Pallasvuo, «Acquisition» by Cátia Serrão, «Yellow» by Līva Kandevica and «Bad Ball» by the author who works under the pseudonym Samplerman.
«Scandal!», the 28th issue of «š!» that invites the viewer to investigate the shocking, outrageous and downright flagrant 164 pages was also created by artists from all around the world. The contributors are Ana Galvañ (Spain), Conxita Herrero (Spain), Dace Sietiņa (Latvia), Emmi Valve (Finland), Ichasu (Japan), Ingrīda Pičukāne (Latvia), Jannis Esselbrügge (Germany), König Lü. Q. (Switzerland), Līva Kandevica (Latvia), Līva Piterāne (Latvia), Lukas Weidinger (Austria), Mārtiņš Zutis (Latvia), Samplerman (France), Tara Booth (USA), Tsukue Akimoto (Japan), Ville Kallio (Finland), Wakana Yamazaki (Japan), Yoshie (Japan), Zane Zlemeša (Latvia).
The works by artists Līva Kandevica and Zane Zlemeša appeared also in the 26th issue of «š!» «dADa», which was nominated for the prestigious Will Eisner Comic Industry Awards in the category «Best Anthology» this May.
While the third «kuš!» mono issue «An Exorcism» is created by American comics artist Theo Ellsworth.
All books by «kuš!» are available online and in the stores «NicePlace Mansards» and gallery «Istaba».