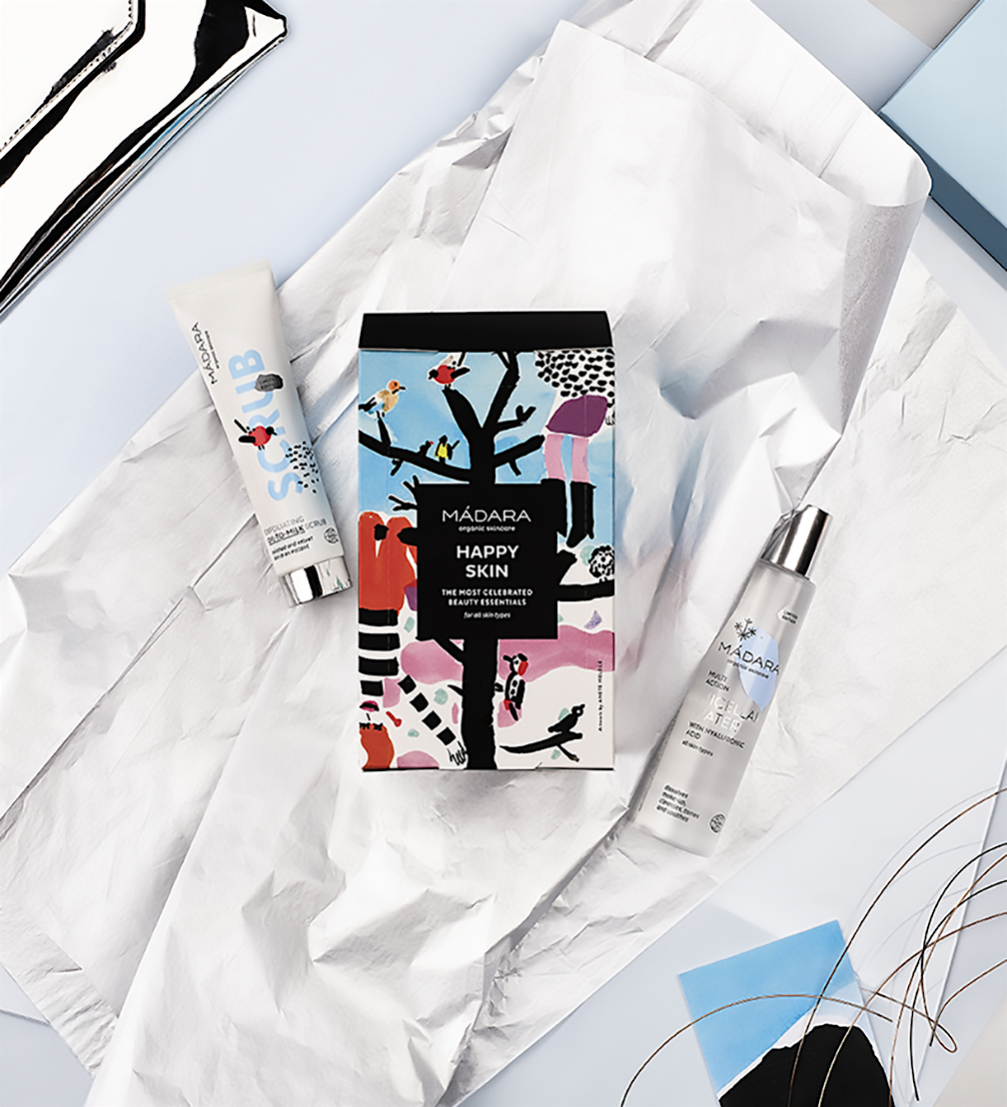 Photo by «Madara Cosmetics»
Although the Christmas time has already passed, the organic skincare brand «Madara Cosmetics» continues to brighten up this snowy season. At the end of the last year, it launched a festive collection «Happy Skin 2017». The packaging design of these products stands out with joyful illustrations by Anete Melece.
The festive collection «Happy Skin 2017» by the brand «Madara Cosmetics» certainly stood out among the Christmas gifts by offering body and face care products and sets in daring colours, unusual to the brand. The collection features soaps of various kinds, textures, and aromas, as well as the gift set «May Birds Come Closer». Some of the brand's most popular beauty products, a scrub, and micellar water, are included in the set, while the most interesting part, the box is designed so that it can be easily turned into a bird feeder. It even has a wooden stick inside on which the great tit or other small bird could land on.
All packaging of the festive collection is adorned with illustrations by Swiss–based Latvian artist Anete Melece. Her creative style is bright, cute and witty. She has worked on various projects, including book illustration and animation films that have received international recognition. In her previous collaboration with «Madara Cosmetics» Anete made the illustrations for children's skincare collection «EcoBaby». «Illustration is imagination revealed. It doesn't impose the truth, just suggest another way of seeing things,» says Anete.
The Design Lead and Creative Director, as well as the co–founder of the brand «Madara Cosmetics» is Liene Drāzniece. This year, she is also one of the members of the National Design Award of Latvia 2018 jury. Liene says that she plans to continue the collaborations with artists and illustrators as it is an opportunity to lively express the feelings connected to the brand and to shape its image. The previous festive collection featured works by artist Egija Zīrāpa who creates collages. Liene reveals that art plays a certain role also in the physical space of «Madara Cosmetics» — its office, as well as the concept store «Madara Skin Café» display wall paintings by Daiga Krūze.