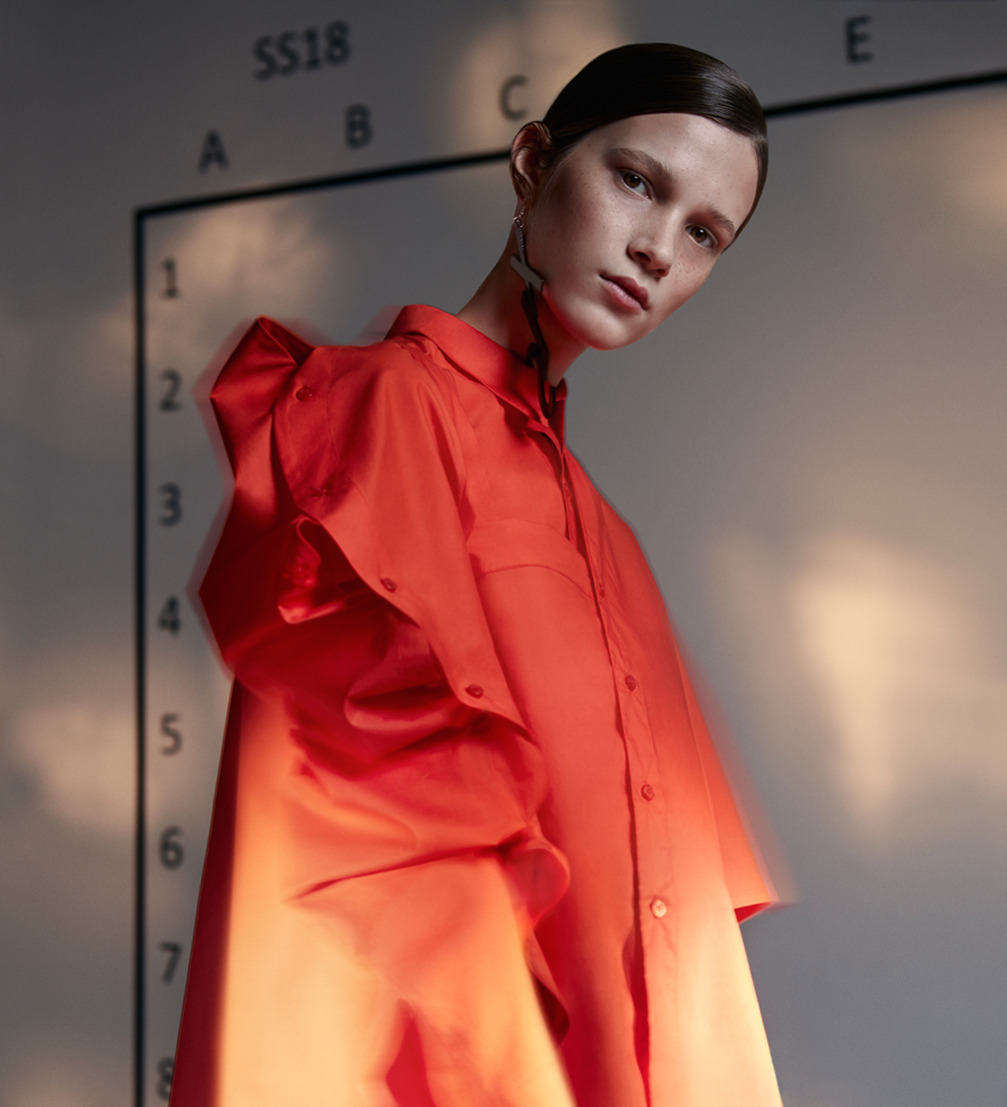 Photo by Eduards Rancāns, style — Rūdolfs Packēvičs, make–up by Anete Sidlovska, model — Sija Jure, «Moon Models»
Grounded in contemporary tailoring, deconstruction and demi–couture techniques, fashion designer Keta Gutmane continues to transfer the codes of classic men's wardrobe onto a woman's body in her Spring–Summer 2018 collection. Subtle femininity is revealed through textural contrasts, while the monochrome palette has reddish orange colour accents.
Keta Gutmane flirts with sporty elegant street wear and provides for a casually democratic silhouette that blends traditional artistry with contemporary tailoring. The predominant element in Keta Gutmane's Spring–Summer 2018 collection is a redefined men's shirt and a double–breasted suit together with track pants. The main elements of a hybrid jacket can be tied up in modules, thus forming different options of waistcoats — the short one and the long one. A jacket with cut–off shoulders and tie–up shoulder straps can be worn as a dress. The Boyfriend Shirt has been redefined as a maxi dress, the trench — as a trench–dress with elongated sleeves. The shirt–top can be tied onto one shoulder, while the track pants, made of classic suit fabric, can be worn as shorts. By wearing these garments with each other, they change their meaning and make other connections between the classic and the absurd, at the same time providing for contemporary female silhouettes. All of the garments can function separately, while the twist and duality are revealed when they are worn in one look in layers.
The collection has classic black mixed with offshore orange, sky grey and stripes; the Japanese quality shirt fabric mixes with flowing cupro and traditional summer suit fabric.