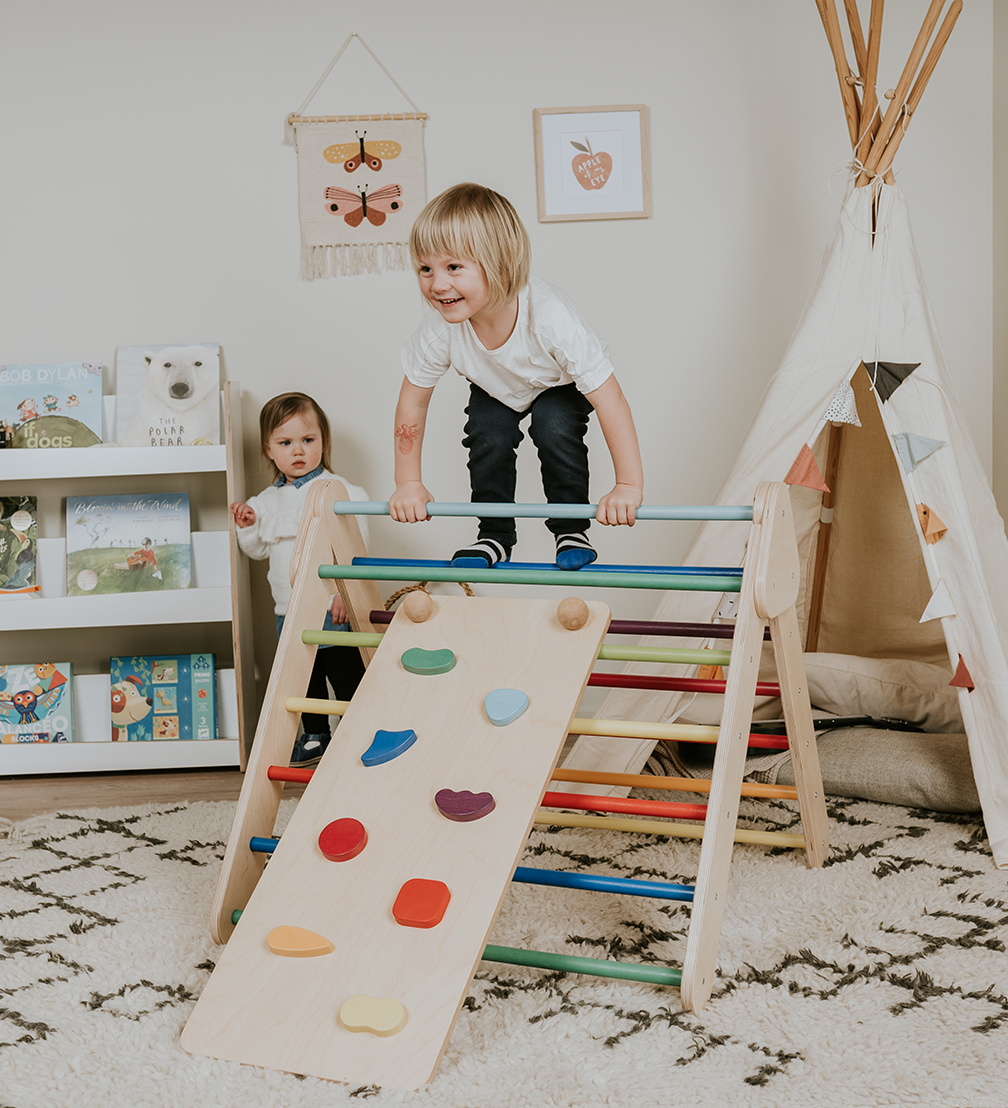 The range of Leg&go toys has been updated with a Pikler triangle — a climbing set for children, which not only promotes the development of babies, but can easily be transformed into a wall bar for the fun of older children.
The Pikler triangle is an activity centre for children, named after the Hungarian paediatrician Emmi Pikler (1902–1984). Her philosophy of raising babies, created more than 70 years ago, has gained worldwide popularity. It is based on the idea that children's development requires independence. Pickler encouraged parents to support their children's desire to move and explore, creating a suitable environment for them, and urged not to try to speed up the learning process. Climbing helps children learn to assess their abilities, understand boundaries and recognise difficulties, and do so at their own pace. In the long run, games help children to explore themselves and their body, building a healthy self-esteem and faith in their own abilities.
Leg&go has created its own version of the Pikler Triangle, which is not only suitable for babies, but can be used for much longer. The activity centre will be useful as early as at the age of six months, when the child can learn to stand up by holding onto the colourful bars. As the baby grows, he will gradually begin to show interest in crawling and will discover new possibilities for using the triangle. In addition, it is complemented by a ramp that serves both as a slide and as a climbing wall. The different shapes of the ramp's steps and the varying degree of hardness will allow the child to experience a variety of tactile sensations. Once the child has grown up from the climbing age, the triangle can easily be transformed into wall bars, continuing to promote children's physical development, strength and dexterity. This innovation will allow children to use the toy set as a baby and up to the age of 10.
Like other Leg&go products, the Pikler triangle design, inspired by the Buy It For Life philosophy, is based on functionality, sustainability, longevity and quality. The toy set is made of environmentally friendly birch veneer and is available both in pastel and bright colours, as well as in natural finish. More information about the toy set can be found on the Leg&go website.