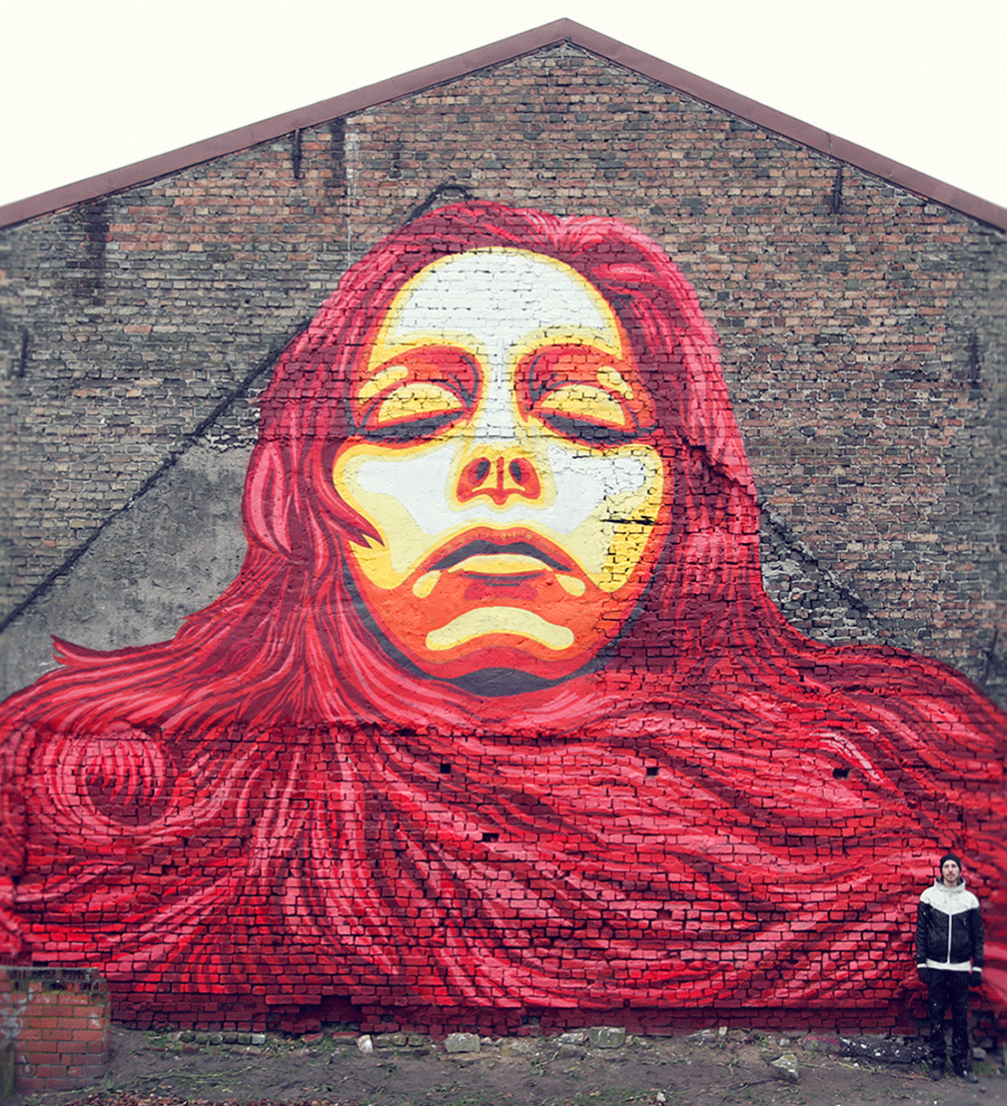 Artwork at Priežu Street 6, Sarkandaugava. Photo by Emīls Desjatņikovs
By creating a 8×8 m woman's portrait on a building in Sarkandaugava, street artist Dainis Rudens or Rudens Stencil not only attracted a lot of attention, but started an ambitious regeneration project of Riga's neighbourhoods and managed to steer the discussion on street art in a positive direction.
The bright red lady of Sarkandaugava can be found at Priežu Street 6. «I deliberately chose a facade on a small street. I made an agreement with the owner, and the wall of the old house was brought to life with a symbolic and decorative drawing. Mainly it is a tribute to my girlfriend, but goes out as much to all of us,» Dainis says.
Why did you choose the neighbourhood of Sarkandaugava for the mural?
In 2013, together with Ukno, we made a 8×14 m mural for the War Museum in Valga in Estonia, and it gave me a motivation to create something similar in Riga as well. I posted a message on my Facebook page that I'm looking for a wall, the owner of which would give me a permission to paint on it. The search concluded with success — a suitable wall was found in Sarkandaugava. To come up with a motif for the mural, I made some «social diving» jumps — I was spending time in the neighbourhood on a regular basis, riding around on my bike, and studying the place and the community that lives here.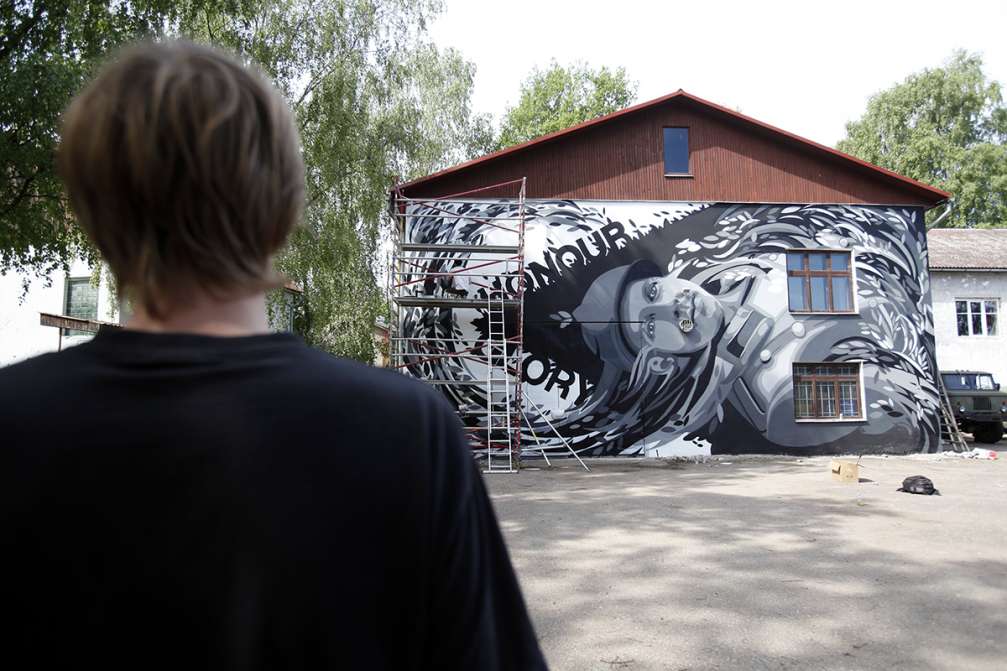 Using my impressions of Sarkandaugava and the season of Autumn (Rudens stands for Autumn in Latvian), I decided to work with reddish colours that I thought would lighten up the place. The locals were telling me about Sarkandaugava as a grim and neglected area, and it made me think that they're not spending their days completely awake — if they didn't notice the romantic surroundings. Quite the opposite — I lost the sense of time just wandering around and trying to get to know the place. I'm convinced that each one of Riga's neighbourhoods hides something unusual and unknown to most people, which can turn out to be much more interesting than the already popular places.
How did you discover the stencil technique?
When I was at middle school, my attention was caught by the hip hop wave that run over Latvia, bringing street culture with it as a way of self–expression. For a short time, I was drawn to graffiti, because it was something new and previously unseen. The wave diminished, and I got the opportunity to join two friends who were given premises in the Children and Youth Centre in Madona. Over time, it transformed from a gathering place into a studio. Here began the musical career of Kode, now known as Kodek, and Ukno, who does illustration and works with clothing illustration for the brand ZIB. I did graffiti and letter art. Inspired by Ukno, in 2007, I made some stencils, which were extremely unsuccessful, but I didn't give up and worked hard to improve. In 2008, collaborating with a street artist, I made my first large-scale stencil Milda on the wall of Madona's Children and Youth Centre. That helped me understand the possibilities of this technique.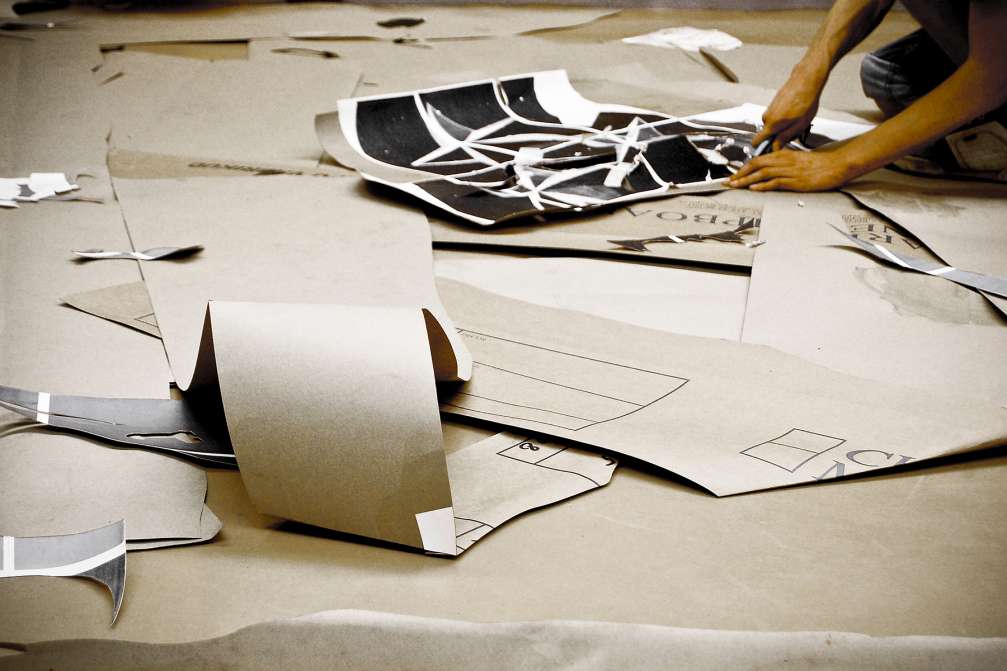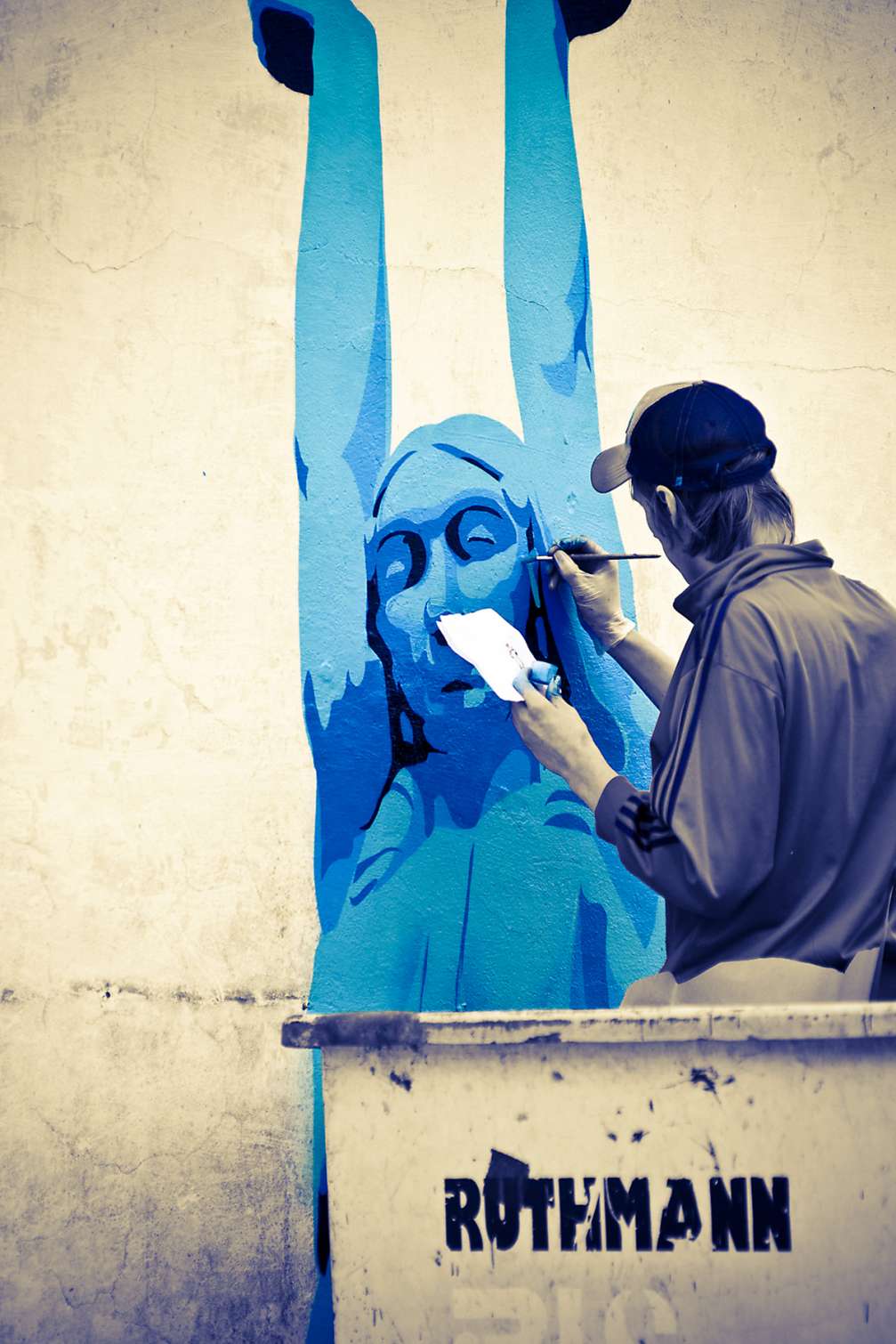 The making of stencil cutouts takes countless hours, but the result is worth the trouble, because it creates an artwork that is both visually impressive and carries a specific period or opinion of my life. The main motivation to work with stencils is the sense that I'm making a long–lasting visual message.
What is it like to be a street artist in Latvia?
Cities are covered with a rather thick layer of graffiti culture, which has planted a negative stereotype in the society of street art as vandalism. Sometimes to the absurd — if you're making a drawing with paintbrushes, such activity is welcome as artistic, but if you're using spray cans, you're suspected of vandalising a property.
Street art communicates artists' opinions, beliefs and often provokes people. Urban environment is over-saturated with advertising, which sends signals to consume, but the classical stencil approach is politically active.
In the recent years, Europe is witnessing a renaissance of street art on walls of buildings, multi-storey buildings. This art form has proven itself as valuable enough for galleries and auctions. I believe that street art is a fusion of various art forms, and being exhibited in urban environments, adds extra meaning to it, and marks its permanent position. I can't emphasise enough that Latvia is the only country in Europe that does not provide any walls to draw on legally. That shows the negligence of this subculture and shortsightedness — it's clear that street art and graffiti won't go away from the city. This culture has been actively present in the public spaces of Latvia for more than ten years already.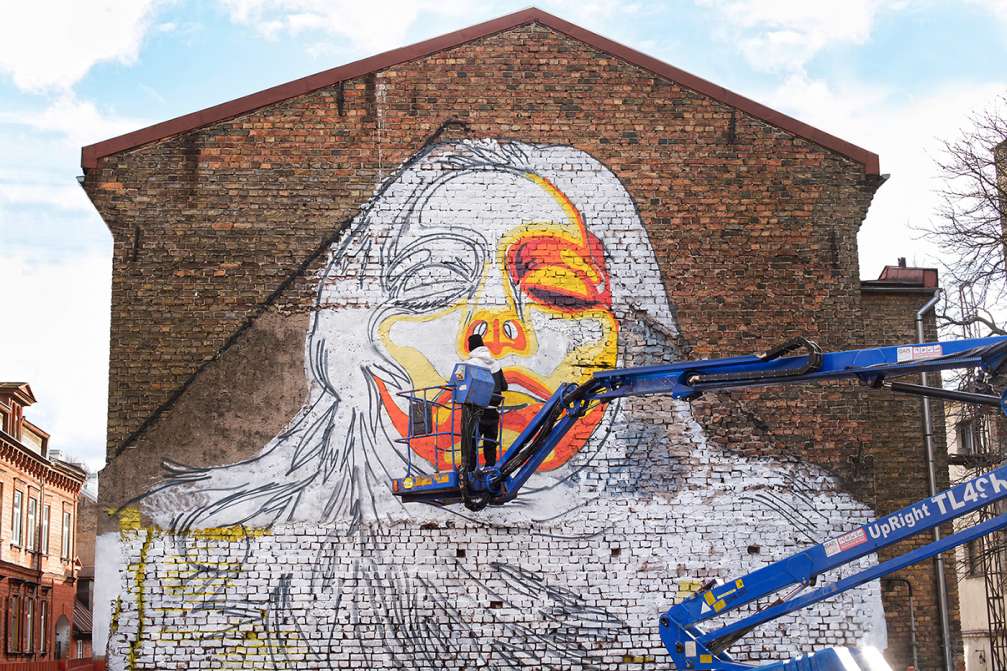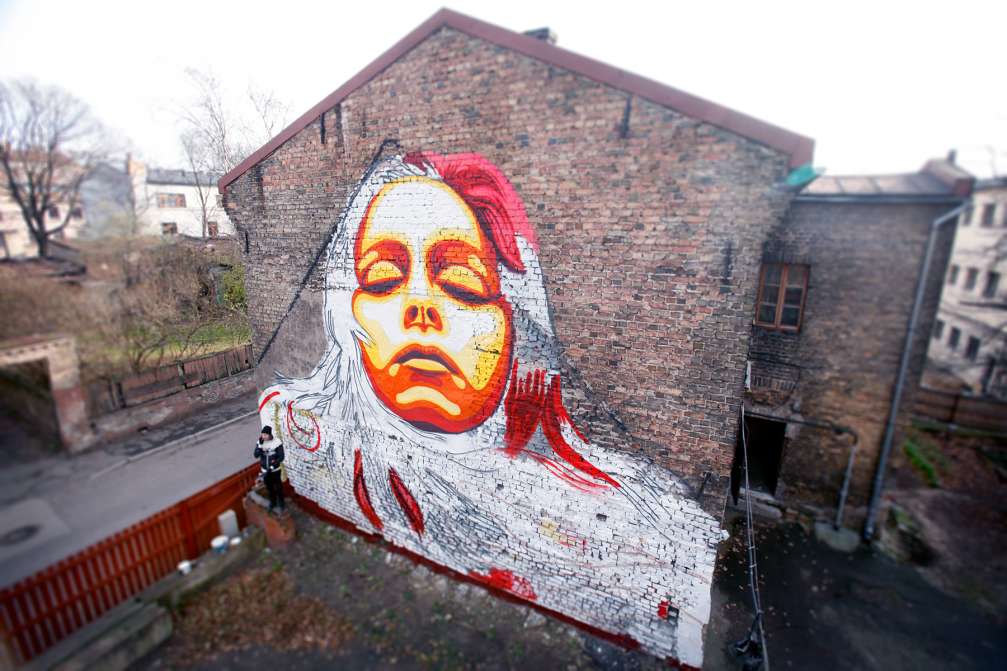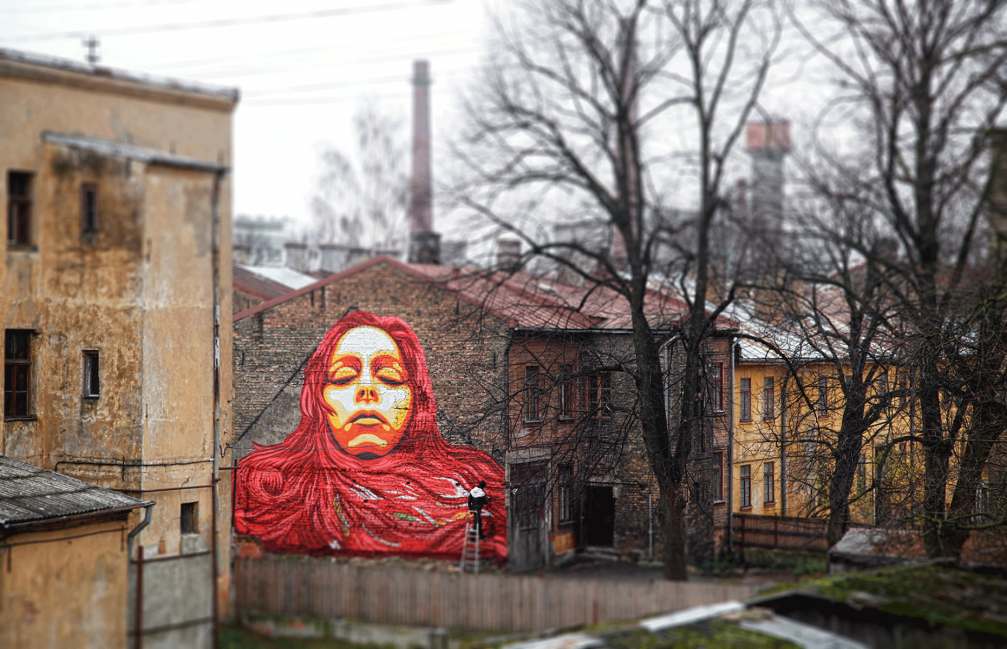 The idea of legalising street art on the walls of the pedestrian way on Salu bridge has been around for a long time now. In that case, the city centre wouldn't be an area of experiments anymore, and the creatives would move slightly outside the centre. The bridge is going to be renovated soon, and such graffiti wall would help street art develop without ruining any architecture. Unfortunately, the responsible authorities do not support the need for a place like that.
I think that art experience should not be limited to museums and galleries, it should be accessible to everyone, regardless of social status. It's hard to think of a better place for artwork than the neighbourhoods of Riga. Large-scale murals on can turn the society's attention to forgotten places and encourage to re-discover them again.
Dainis Rudens continues to search for house owners in Riga that would be willing to give walls of their buildings for his city regeneration project. The wall in Sarkandaugava is a pilot project for future urban artwork. Dainis is open to collaborations with other creative people as well. He has joined the organising and artists team of the Blank Canvas street art festival, which is going to take place in Riga in May 13–17, 2014, and will gather both local and foreign street artists to work on a range of walls in Riga, as well as highlight and explain the meaning of street art for a wider public.